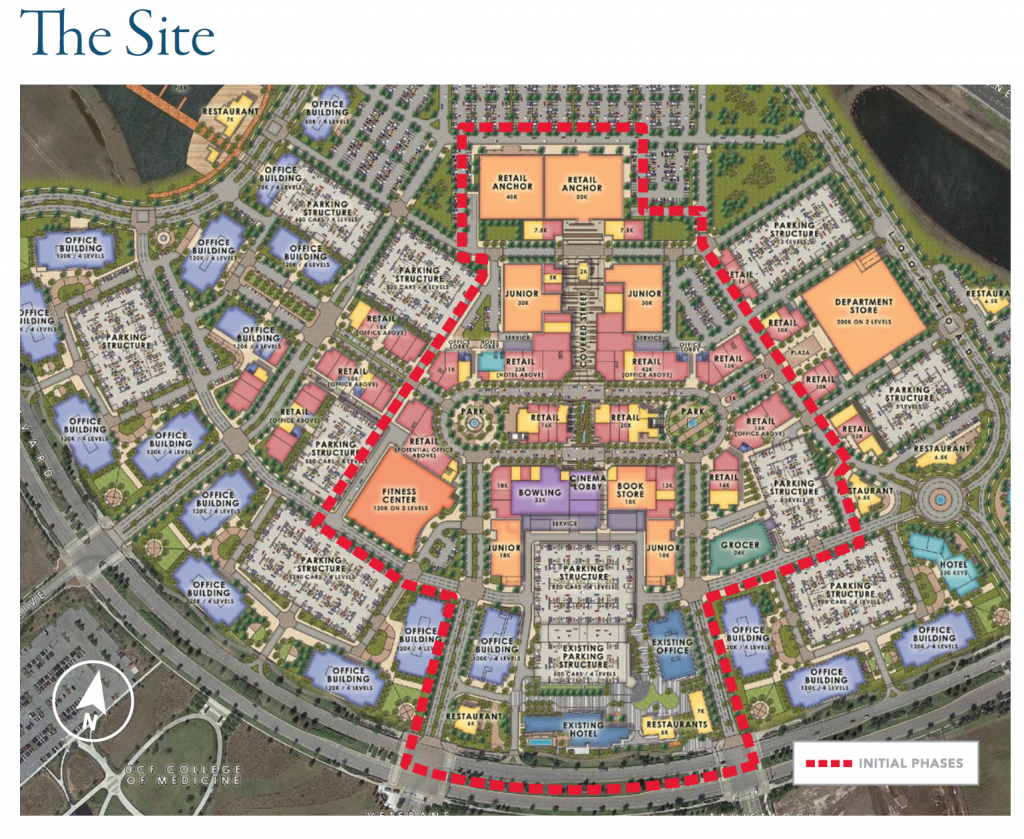 UPDATED: March 3rd 2017 – reported by OBJ
Lake Nona is getting closer to starting construction on a big entertainment addition to the 17-square-mile community.
Developer Tavistock Development Co. LLC on March 9 is expected to go before the city of Orlando's Southeast town design review committee with a specific parcel master plan for what's being called Phase 2A — a significant piece of the $780 million, 3.8 million-square-foot open-air lifestyle and entertainment center planned for Lake Nona.
Tavistock has submitted plans that include:
1.2 million square feet of mixed-use development, including a brewery, bowling alley and medical fitness facility
About 200 hotel rooms
3,200 parking spaces, including surface spaces and garage spaces
3.8 million square feet of mixed-use development at build out
100-acre site fronts SR-417, Orlando's eastern beltway,
with access from three interchanges
Total daytime employment of 164,062 within 10 miles of the site
Orlando International Airport is less than 8 miles away
Over 8,000 students within 5 miles of the site Medical City, a 650-acre health and life sciences district, surrounds the town center site
Sports & Performance District is within 2 miles of the site
USTA National Campus – the New Home of American Tennis, is located within 2 miles and will host 100,000 expected visitors in 2017
Lake Nona moves into next phase of Development
By Mike Troy, Chain Store Age
In Orlando, Florida, one of America's fastest-growing communities is getting ready to take the next step. Lake Nona–an 8,000-acre, 11-square-mile master-planned community that has already completed more than $3 billion in construction encompassing 7.1 million square feet of world-class residential and commercial facilities over the last 8 years–is moving forward with the next phase of what will ultimately be a 3.8 million-square-foot central commercial district: Lake Nona Town Center.
Lake Nona developer Tavistock Development Company recently announced that it is partnering with Columbus, Ohio-based Steiner + Associates to serve as its retail planning, leasing and development services partner for the 100-acre open-air town center.
Steiner's award-winning expertise creating immersive and engaging mixed-use environments is a good fit for a feature that is expected to serve as the social and commercial centerpiece of the larger Lake Nona community. Tavistock Development President James "Jim" Zboril has cited Steiner's strong track record for creating inspired mixed-use communities. The pioneering developer boasts a portfolio of projects that includes iconic destination like Easton Town Center in Columbus and the recently opened Liberty Center, a $350 million mixed-use project in Liberty Township just outside of Cincinnati, Ohio.
While full details of the project–including a scale model–will be unveiled at the 2016 International Council of Shopping Centers (ICSC) RECon convention in Las Vegas, the next phase of the town center is slated to include a diverse mix of retail, dining and entertainment options, as well as new office and hospitality components. Lake Nona Town Center's $70 million first phase, which came online in January 2016, includes an 85,000-square-foot office building, two hotels (a Marriott Residence Inn and Courtyard by Marriott), 16,000 square feet of retail and restaurant space and a unique multi-level parking structure with two distinctive and interactive visual landmarks: the six-story Beacon and the Code Wall. All told, the initial phases of Lake Nona Town Center will include more than 1 million square feet of mixed-use space.
While the ambitious size and scope of Lake Nona Town Center is eye-opening, the scale of the project is well suited to serve as the lynchpin of a master-planned community that has already reshaped the Southeast Orlando development landscape. More than 10,000 residents currently call Lake Nona home, and approximately 7,000 students and 5,000 employees learn and work in the project's Medical City life sciences hub and world-class educational facilities. Lake Nona's Sports & Performance District is home to the USTA's New Home of American Tennis–the largest tennis facility in the world.
Adjacent to Orlando International Airport (Florida's largest international airport), accessible by three onsite interchanges onto SR-417, serviced by the planned All Aboard Florida high-speed train, and just 35 minutes from the beach, Lake Nona is at the center of a robust and reliable transportation network. An award-winning project that has drawn regional and national attention, Lake Nona has been recognized as one of the top 10 fastest-selling U.S. master-planned communities, has been profiled by FORTUNE magazine in a feature entitled "How to build a great American city." Lake Nona is also the first gigabit community in Florida, and is the first and only community in the U.S. to be designated a Cisco Iconic Smart + Connected City (one of just nine such cities in the world).
It is an extraordinary backdrop for a project that Steiner + Associates Founder and CEO Yaromir Steiner says will be not just a regional headline, but a national standout: "The combination of inspired design elements, mixed-use offerings, and seamless integration into the heart of one-of-a-kind development have Lake Nona Town Center poised to make its mark on Central Florida, and to make headlines across the country."

Latest posts by Lake Nona Social
(see all)