Lake Nona is unveiling a smart home highlighting innovations designed to improve health and well-being from a vitamin C shower to an alarm clock that lights up to simulate dawn.
This 6,000-square-foot triplex, named WHIT for Wellness, Health, Innovation and Technology, has been two years in the making. It is one of the few smart model homes in the nation to solely focus on displaying and testing health-related technology.
"We all want to live in a healthy home, but what does that really mean?" said Gloria Caulfield, executive director of the Lake Nona Institute, which is the project's main driver. "We want to find out what makes a difference in wellness and what creates sustainable change."
The home, built at Laureate Park, will offer free tours starting Sept. 19 for curious consumers who can use it as a playground and inspiration for their own homes, while helping partners and researchers collect data from feedback through surveys and usage patterns.
Visitors can take tours of the house with the help of an interactive app and choose paths that takes them to products that can help with better sleep, improved nutrition, or caring for an aging parent.
With more than 11,000 residents in Lake Nona and visitors from elsewhere, researchers say the home is going to be a living lab.
"Since we're not selling anything, we can be more objective and also see how [the products] integrate and how they fit into your life," Dr. David Metcalf and his team at UCF's Mixed Emerging Technology Integration Lab.
He said he hopes that the home's unique design will attract more health-tech companies to Orlando and help grow its life-sciences cluster.
To design the house, Lake Nona Institute has partnered with local organizations such as UCF, Nemours Children's Hospital and GuideWell Innovation, and national organizations including GE Appliances, Johnson & Johnson Health & Wellness Solutions, and Delos, a consulting and technology firm.
Built by Craft Homes, the house is divided into three parts. One part features a fully developed area furnished with commercially available products; an emerging solutions area displays prototypes from large and small companies; and a concept development garage fosters innovation and the testing of new ideas.
Some of the products in the fully developed area include cork floors, air filtration and water purification systems, a vitamin C shower, variable lighting that helps with the circadian rhythm, an alarm clock that mimics sunrise, aromatherapy, a pedal desk, and iPads that provide access to Nemours CareConnect and adult telemedicine.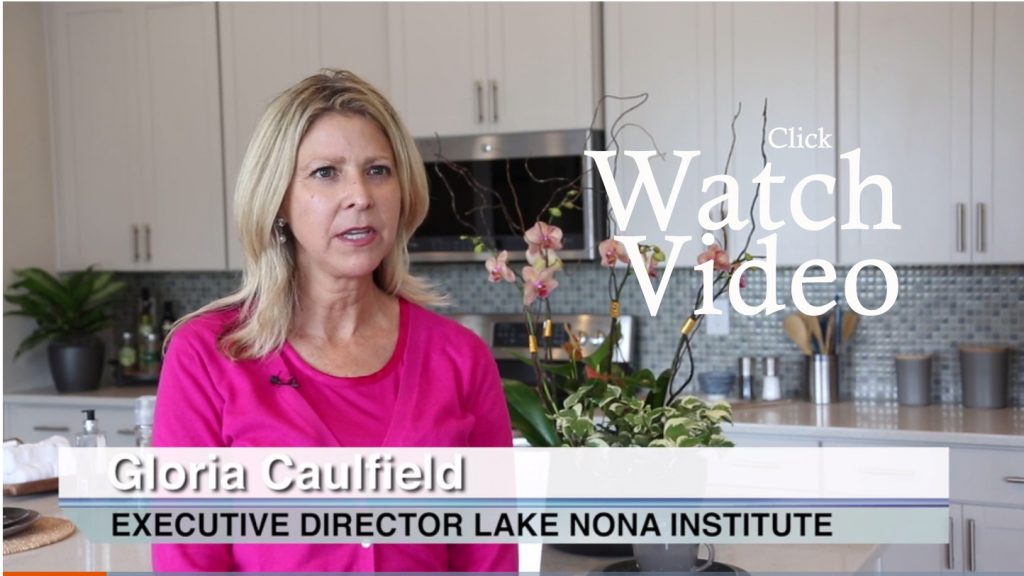 "We're using this part of the home to educate people," said Caulfield.
The emerging solutions part of the home includes products from large companies and small startups.
GE Appliances, for instance, has built an interactive kitchen island that helps consumers select healthier menus, follow cooking videos or check out the weather and pollen count while planning their day.
"One of the things that's really new for us is thinking about how we can maybe influence eating habits in the kitchen," said Chris Bissig, manager of concept and brand development at GE Appliances in Louisville, Ky.
In the kitchen, across from the island, sits the prototype for an indoor herb garden, and under the cabinets a blue hue emanates to disinfect the counter-top. Again, a prototype.
On the second floor, there's a connected fitness room, and another room is equipped with gadgets and products for kids who have chronic conditions such as type 1 diabetes.
The aging in place area is furnished with products for seniors who want to maintain their independence at home.
"This allows us to meet patients and meet folks in their community and their home," said Jessica Houston, an innovation consultant with GuideWell Innovation, which is focusing on aging in place at WHIT.
CarePredict, for instance, is a wearable device that tracks movement from room to room and habits like sleeping, brushing teeth and using the bathroom.
Visitors can wear the device while touring the house. Having the device at WHIT "lets people get a view of how easy it is to integrate a system like this into a home," said Satish Movva, who started the company in 2015 while searching for a solution to remotely keep an eye on the health of his aging parents.
Another prototype that can help track the health of aging parents is a device that transforms a regular toilet into a smart toilet, or rather a mini laboratory. The technology tests the urine and can help with early diagnosis of developing conditions such as urinary tract infection.
The device was developed by Metcalf and his team at UCF's Mixed Emerging Technology Integration Lab, which is going to have a regular presence at the home, mostly in its spacious all-white garage, or the third part of this triplex, to test products, brainstorm, and build new solutions.
"Being the education and research partner, we help curate some of the health and wellness technology and solutions," said Metcalf. "And when we can't find one, we do a prototype like the intelligent toilet. … And when things are ready, they go to the actual home."
Register for TechTalks 

Latest posts by Lake Nona Social
(see all)