Drive Shack: A Must-Try Golfing Experience
Want to put a spin on your golf game?
Drive Shack is a three-story indoor and outdoor golfing range. The flagship and first ever location is in Lake Nona. Drive Shack plans to open several more locations including West Palm Beach, Raleigh, Atlanta, Richmond, and New Orleans. Whether you're an All-Star Pro or have never golfed a day in your life, there's a little something for everyone! Drive Shack has a full service restaurant and bar, free game lounge, outdoor driving range and three fully-equipped event rooms.
To check out our recent experience, watch the video below!
Hours & Prices
Drive Shack is open Sunday to Thursday from 9am-11pm and Friday to Saturday from 9am-1am. Each bay holds up to 6 players and the prices vary depending on the time of day. 
$30: Open to 12pm
$40: 12pm-5pm
$50: 5pm-close
TIP: Go Dutch between you and your friends and you've got yourself an inexpensive, fun outing!
Becoming a Member
In order to play at Drive Shack, you'll need to purchase a lifetime membership. It includes a personalized membership card, access to play the games and courses, and use of the Custom Drive Shack golf clubs (but you could also bring your own clubs if you have them). 
There are three different membership levels:
General Bayplay

: $5 one time fee

Unlimited AM Bayplay

: $300 one time fee

Unlimited Day Bayplay

: $375 one time fee
Check out the image below for more details on membership options.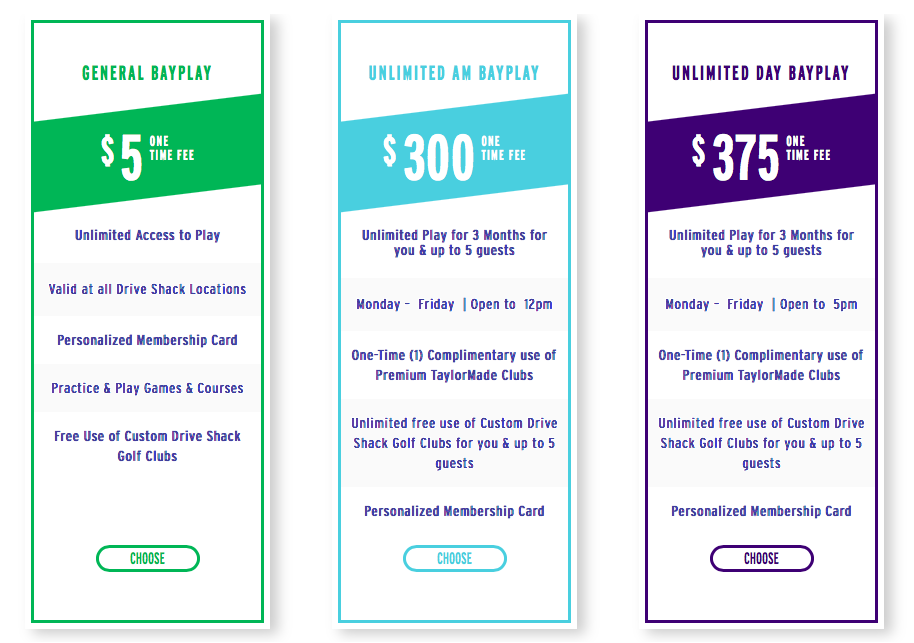 Today was my first time joining and I'm glad to say that the sign up process was quick and easy. While you're checking in, the host will ask someone in your party to become the bay leader who will receive a 6-digit pin sent to their phone in order to activate the bay. Once you're at the bay and have unlocked it with your pin number, it's game on! 
Games
 & Courses
I've only played golf once before, and let's just say an 18-hole course is not for me! So I was super happy to see that Drive Shack has five different games to choose from. In Monster Hunt, we had to destroy all the monsters to save the Drive Shack Princess while Shack Jack is Drive Shack's personal spin on Black Jack. A few more games available to play are: DS Classic, S-H-A-C-K, and Pro Practice.
Now, if you're into golf courses, Drive Shack offers five different course options for you to choose from. Three out of the five are actual courses in real life that you could visit. The Blue Bayou and Broken Tree courses were specifically designed for Drive Shack! If you want to get extra practice at playing a course rather than just games, this may be a good option for you.
Game Lounge
Whether you want to compete in your favorite arcade game or just watch tv and relax on the couch, Drive Shack's Game Lounge is perfect for all ages. It's located on the third floor and all of the games are FREE! 😉 Games such as foosball, basketball, skee-ball, and many more are available for you to use during your visit.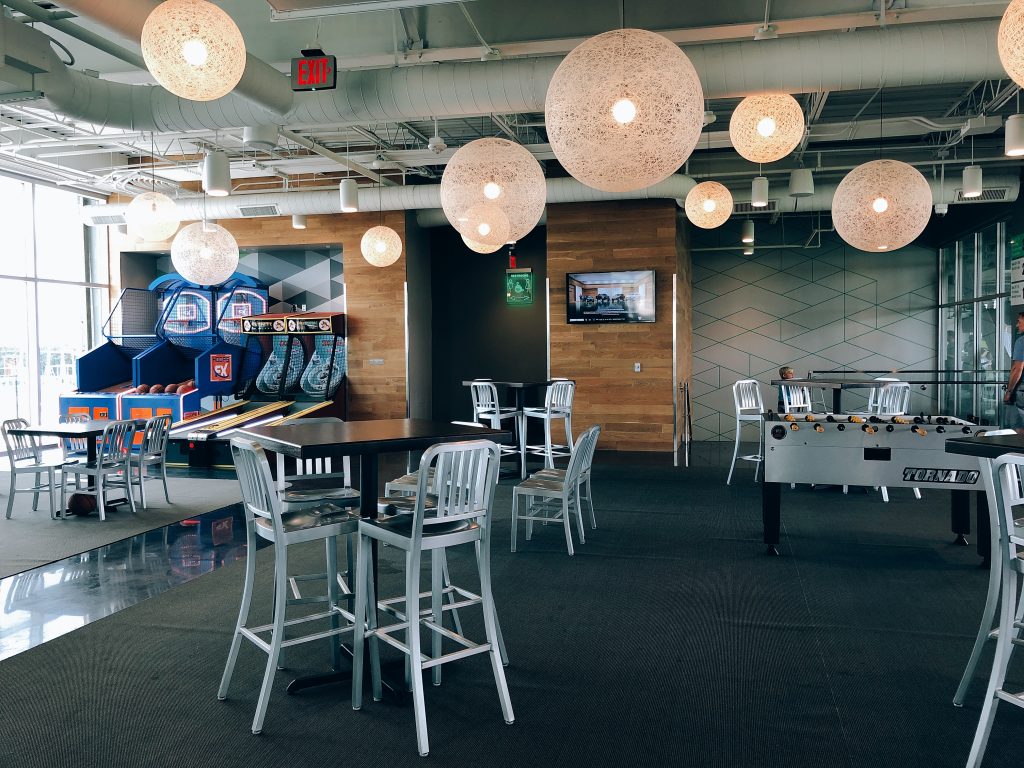 Food & Drinks
We can't forget the food! The restaurant inside has a wide variety of delicious food and drink options. Enjoy your meal in the restaurant area or place your order with your bay caddy while you play. We went early in the day and decided to try the Loaded Morning Tots; they were so yummy!  Other popular options include the Hole in One Burger, Bucket of Balls, and Stacked Nachos.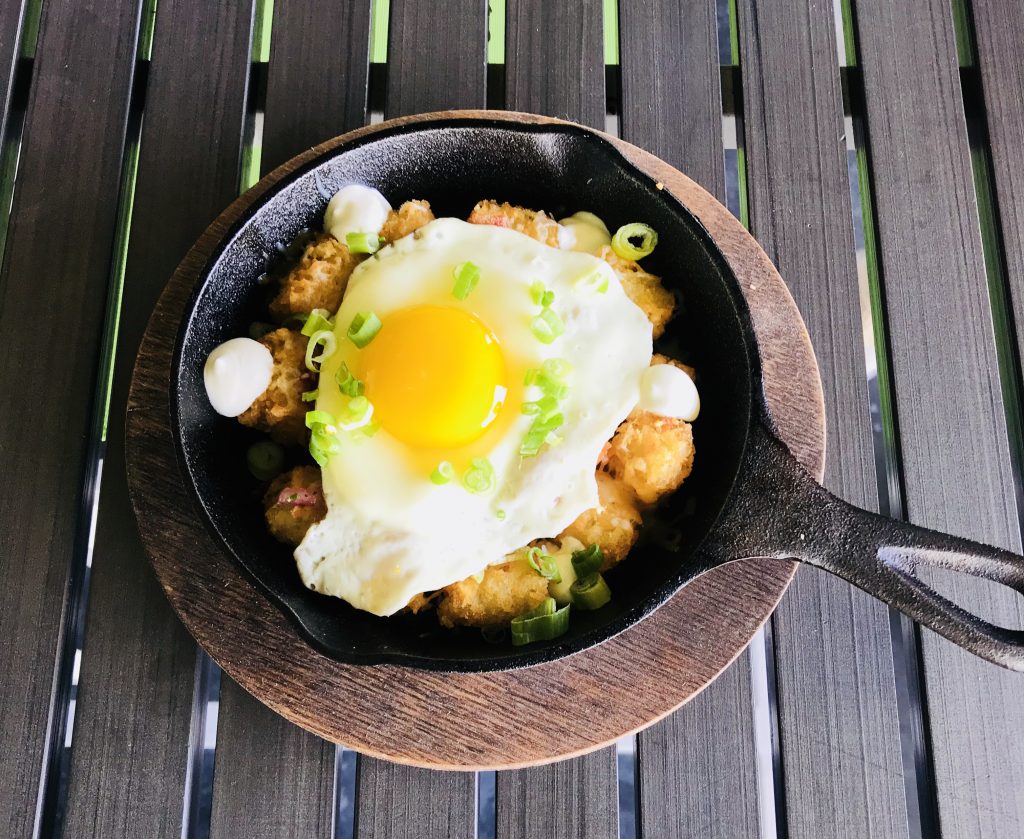 Ready to Golf?
Plan on giving Drive Shack a visit? Make sure to take some pics and let us know how it went in the Lake Nona Social Community Facebook group.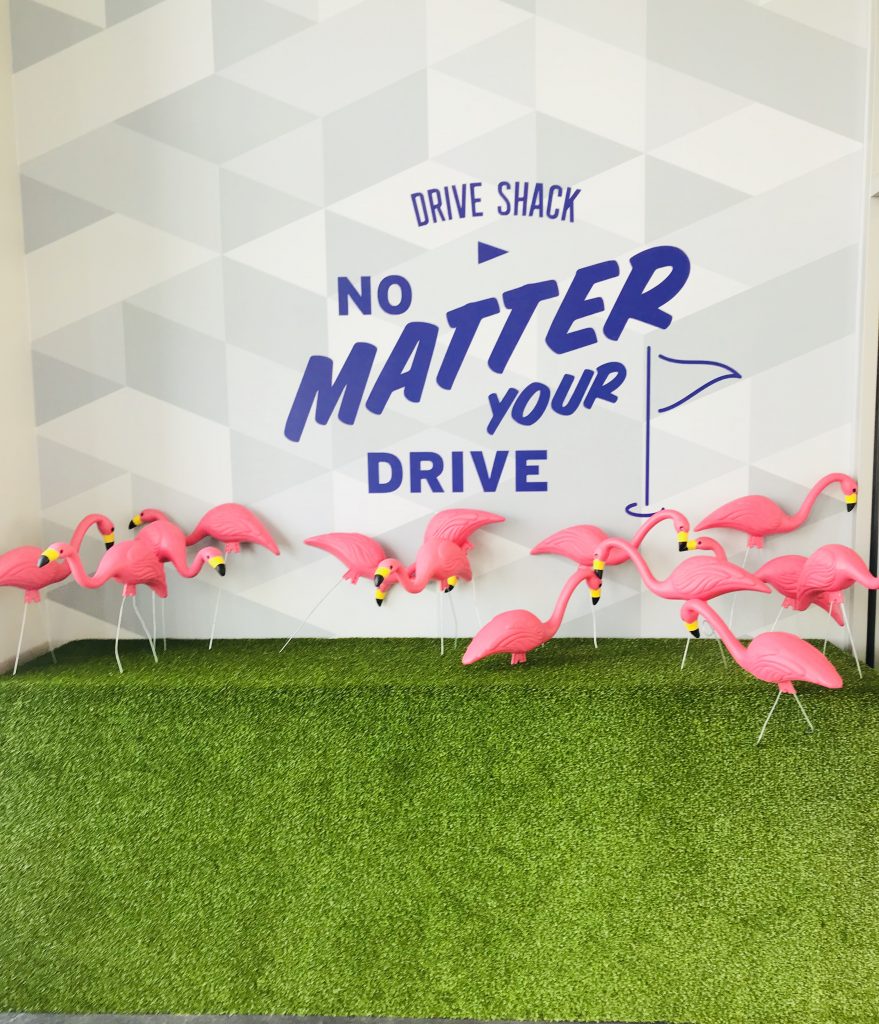 Connect with us!

Latest posts by Lauren Caban
(see all)