Lee Vista, Orlando, Fla. – June 29, 2016
Moe's Southwest Grill Opening their new location near Lake Nona. Moe's Southwest Grill ® opens at the Lee Vista Promenade shopping center next to Epic Theatres 6817 Eagle Watch Drive on Thursday,
June 30 at 11 a.m.
Just 10 mins away from Lake Nona the Lee Vita location is offering Moe Monday pricing Thursday, June 30 through Monday, July 4. Customers can enjoy any burrito or burrito bowl, chips, salsa and a regular size drink for only $6.49. On Monday, July 4, the Lee Vista Moe's will celebrate the first official Moe Monday by offering the first 250 guests free t-shirts.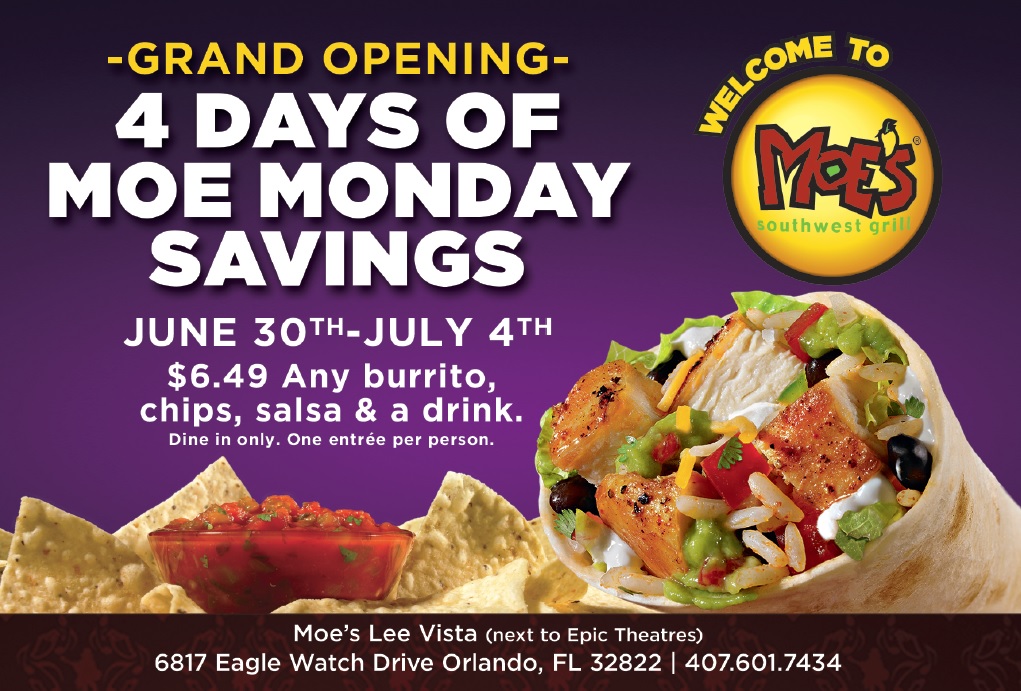 Stop by and say hi to Regional Director and Lake Nona Resident Adam McLellan.
The Lee Vista Moe's is owned and operated by franchisees Anthony Friel and Ken Franklin, who have
been with Moe's for more than 14 years. Friel and Franklin also operate 20 additional Moe's locations
throughout central Florida and the Tampa area.
"Moe's is a rapidly growing brand with a loyal following across the country and we believe Lee Vista will also enjoy Moe's fresh, flavorful food and family-friendly atmosphere," said Friel. "We're eager to open our doors and look forward to building long-lasting relationships with our guests and the community."
There are three things Moe's newbies should know: the crew will say, "Welcome to Moe's!" when you
walk in the door (don't be jolted – it's normal), the most popular burrito is lovingly called the
Homewrecker and Moe's Famous Queso is famous for a reason.
Each meal is created-to-order in a way that is as unique as the people Moe's serves. With honestly good
ingredients like all-natural chicken, grass-fed steak, organic tofu and handcrafted guacamole, Moe's
offers a wide variety of options to meet guests' unique tastes and lifestyle. And no matter the meal,
guests can always count on getting free chips and salsa.
And whether you're hosting a party, business function or wedding, or you're tailgating before a big game,
Moe's catering has you covered. Moe's offers one-of-a-kind caterings filled with flavorful options that
please even the pickiest of eaters (vegetarian, gluten-sensitive, lower calorie). Check out
www.moes.com/catering for more information.
Moe's in Lee Vista will be open Sunday through Wednesday from 11 a.m. to 10 p.m. and Thursday
through Saturday from 11 a.m. to 11 p.m. For more information, guests may call (844) 407-6637 or visit
About Moe's Southwest Grill ®
Welcome to Moe's! ®  Founded in 2000 and based in Atlanta, GA, Moe's Southwest Grill is a fast-casual
restaurant franchise that serves honestly good, fresh, southwestern food in a welcoming environment
that rocks. Best known for its burritos, Moe's has more than 20 fresh, flavorful ingredients like all-natural
chicken and handcrafted guac that are rolled together into an endless serving of awesomeness. Whether
you visit us at one of our more than 575 franchised locations throughout the U.S., have us cater to your
home or office, or pick up one of our licensed products, it's just honestly awesome food. Check us out
online at www.moes.com to find a store near you, and then connect with us
on Instagram, Twitter, Vine and Facebook.

Latest posts by Lake Nona Social
(see all)