Tavistock Group, announced today plans for a speculative 155,000 SF, six-story, class-A, multi-tenant office building in the growing Lake Nona Town Center, as part of more than one million square feet of planned speculative and shovel-ready office projects in its Orlando development pipeline. The office projects are planned for Tavistock's large-scale Lake Nona community in southeast Orlando and the company's 200-acre Infinity Park corporate park on John Young Parkway.
The much-needed office space will conveniently be located at the southwest corner of Veteran's Way and Lake Nona Boulevard, the Town Center's newest multi-tenant office building will consist of 25,000+ SF floor plates, upgraded design finishes and an exquisitely landscaped plaza with outdoor seating. In addition, tenants will have access to free parking within a multi-level garage that doubles as public art adorned with colorful dichroic glass, lighting and a 'Code Wall' and is attached to a six-story digital art monument called 'The Beacon.'
Designed by award-winning architecture firm m+a architects with design architect Place Alliance,  PCL Construction Services, Inc was selected as the General Contractor and plans to break ground on the project this Fall with a projected completion date in Fall 2018.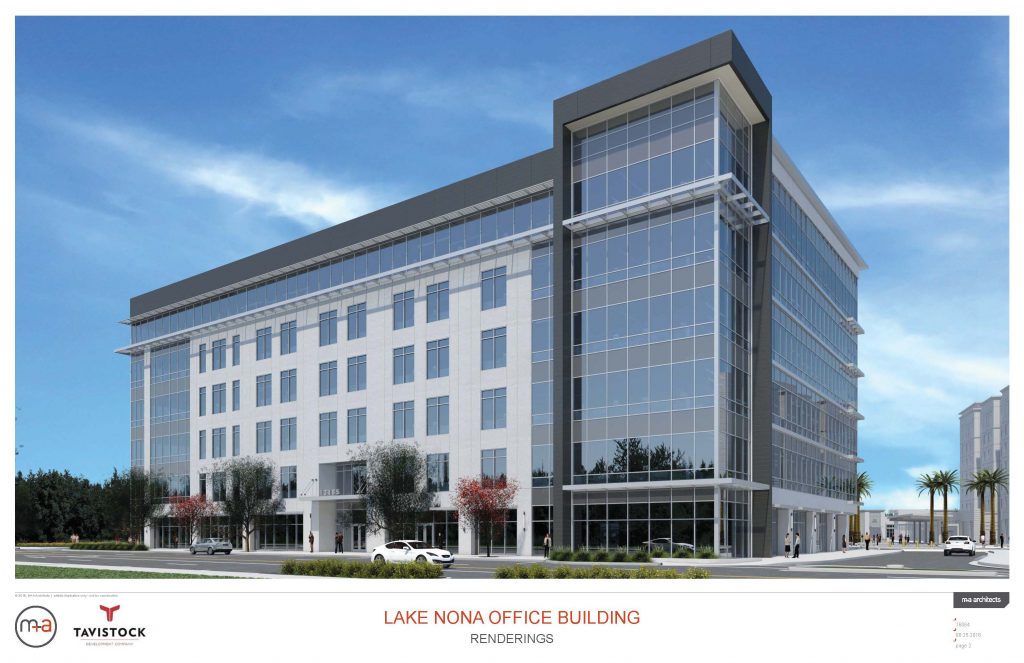 "We are excited to begin construction on the Lake Nona Town Center office project and to continue our relationship with Tavistock Development Co.," said PCL District Manager Rick Goldman. "The development of this Class A office space will bring more forward-thinking business to Lake Nona and promote greater employment and economic opportunities for the people of Central Florida. PCL is honored to be a part of this important project."
One of the fastest growing communities in the nation with more than 10 million square feet of current and planned residential and commercial development, Lake Nona has more than 800,000 SF of new office projects coming online across the large-scale development, which includes more than 200,000 SF of speculative office projects.
On the heels of announcing the largest office transaction in Orange County, Fla. with Orange Lake Resorts' new 240,000 SF corporate campus at Infinity Park, Tavistock Vice President of Commercial Development Skipper Peek announced that Tavistock would be developing two build-to-suit office sites totaling 260,000 SF at Infinity Park, a 200-acre corporate campus strategically located at the intersection of John Young Parkway and The Beachline (SR 528). Current entitlements within the development plan call for a total of 4.5M SF of office and industrial within the mixed-use business park.
For Tavistock office leasing inquiries, please contact:
The new Lake Nona Social app is now available.
Download for exclusive news, deals, and events.

Latest posts by Lake Nona Social
(see all)