What: USPTA and USTA Florida will celebrate the groundbreaking of their new headquarter facilities on Friday, June 3, at the Lake Nona Sports & Performance District.
When: Friday, June 3 at 1:30pm
Who: Tavistock Development Company Vice President of Sports Ventures
Andy Odenbach
USPTA President Chuck Gill
USTA Florida President Nancy Horowitz
Where:
Lake Nona Sports & Performance
USTA National Campus Parking Lot
Located off of Lake Nona Boulevard at the end of USTA
Boulevard. Directions can be found HERE.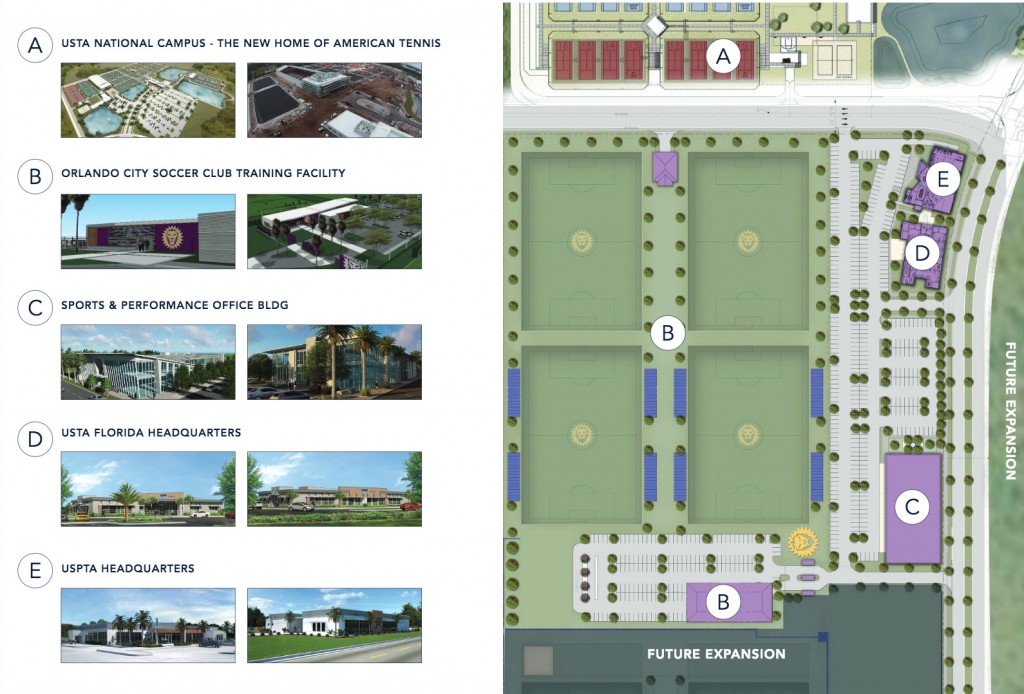 USPTA AND USTA FLORIDA GROUNDBREAKING CEREMONY SPEAKERS  
Andy Odenbach
Tavistock Development Company Vice President, Sports Ventures
Andy is currently the Vice President of Sports Ventures for Tavistock Development Company, the Tavistock Group entity that is responsible for the 11-square-mile mixed-use development at Lake Nona. In this role he is responsible for all sports related business development. He played a critical role in landing the USTA's "Home of American Tennis" and most recently led Tavistock's efforts to build the Orlando City Soccer Club's Training Center at their Sports & Performance District. In addition to his business development role, Andy is also the President of Lake Nona Golf & Country Club and Lake Nona Realty, which closed over $46 Million in real estate sales in 2015. Prior to joining Tavistock in 2005, Andy worked in six cities over a nine-year period for the PGA of America as a Tournament Director for both the Ryder Cup Matches and the PGA Championship. Andy is currently the President of the Florida Citrus Sports Board, which administers the Russell Athletic Bowl, The Buffalo Wild Wings Bowl and the recently created Kickoff Classic.
Chuck Gill
USPTA President
USPTA President Chuck Gill is the Director of Sports at The Club at Ibis in West Palm Beach, Fla., where he oversees all aspects of the club's tennis, fitness, spa and aquatics operations. This USPTA Elite Professional has an extensive tennis background and a strong history of involvement in the tennis industry. He has been an active USPTA member for more than 30 years and has served on several national committees. He also was a member of the USPTA Florida Division's board of directors from 1995 to 2005, serving as president from 2002-2003. Chuck is an active USTA volunteer and he serves on the board of directors of the USTA Florida Section and is currently on the USTA National Adult Competition committee. He is also a member of the Florida Chapter of CMAA and actively attends both national and regional education events on trends in the private club industry.
Nancy Horowitz
USTA Florida President
Nancy Horowitz has spent more than 35 years volunteering with USTA Florida. In 2007, she received USTA's Eve Kraft Community Service Award. The award was the culmination of a journey that began with her first year as a tennis volunteer in 1980, when she helped develop the Pembroke Pines Tennis Association. Her commitment eventually landed her a full-time position as a parks and recreation tennis coordinator, with responsibilities include staffing six public facilities, overseeing 12 tennis pros, purchasing equipment and coordinating more than 50 courts across the area. More recently, Nancy has focused her efforts on supporting Hispanic coaches and finding teaching pros and volunteers for after-school tennis programs and 10 and Under Tennis for children. Her other committee and council volunteering has included Officials Trainer Evaluator, Budget and Finance, Strategic Planning, Volunteer Council, National Learning Leadership and Development Committee, Board of Directors, Executive Committee-Treasurer, and awards including Official of the Year, Volunteer of the Year, and Merit Award.
About Lake Nona Sports & Performance District
In addition to being the new home of USPTA and USTA Florida, the Lake Nona's Sports & Performance District is home to the USTA National Campus, the largest tennis facility in the country opening at the end of 2016, and Major League Soccer's Orlando CitySoccer Club's Training Center and Elite Youth Academy, which are currently under
The Lake Nona Sports & Performance District offers a forward-thinking platform for sports and performance-related organizations in training, nutrition, human performance and health technology with unique resources including: a gigabit fiber
USTA Florida at the Lake Nona Sports & Performance District
The United States Tennis Association-Florida Section (USTA Florida) moves to the
Florida's 67-year history, following headquarter locations in Miami Shores (1949-87),
North Miami Beach (1988-92), Pompano Beach (1993-2001), and Daytona Beach Established in 1949 to primarily sanction tennis tournaments for adult and junior players in Florida, USTA Florida has grown to offer tennis opportunities for all ages
Program, along with Kids Tennis Clubs, Play Days, and Junior Team Tennis. A youth player can then follow our 10 & Under Youth Progression Pathway through competing in junior tournaments with age-appropriate balls, racquets and court sizes until they become an adult player.
USTA Florida gets players on courts through USTA Leagues, the Junior Team Tennis league and Team Tennis Challenges for kids, the Masters tennis short-court format for seniors and social play, innovative one-day tournament formats, and conventional adult and youth tournaments numbering more than 800 over the course of a year…and growing.
USPTA at the Lake Nona Sports & Performance District
The Lake Nona Sports & Performance District will become the home of the United States Professional Tennis Association (USPTA). Approximately 13,500 USPTA members work in the United States. The rest represent more than 80 countries around the world.
Founded in 1927, the USPTA is the global leader in tennis-teacher certification and professional development. With more than 15,000 members worldwide, the association raises the standards of tennis-teaching professionals and coaches, and promotes a greater awareness of the sport. USPTA offers more than 60 professional assistance and a retirement plan.
The single-story, 10,000-square-foot building, which will be home to approximately 20 members of the USPTA staff, will house a technologically driven office space and lab for learning and training. In addition, the space features an in-house multimedia studio that will allow for TV production, including "On Court with USPTA," which airs on the Tennis Channel.

Latest posts by Lake Nona Social
(see all)