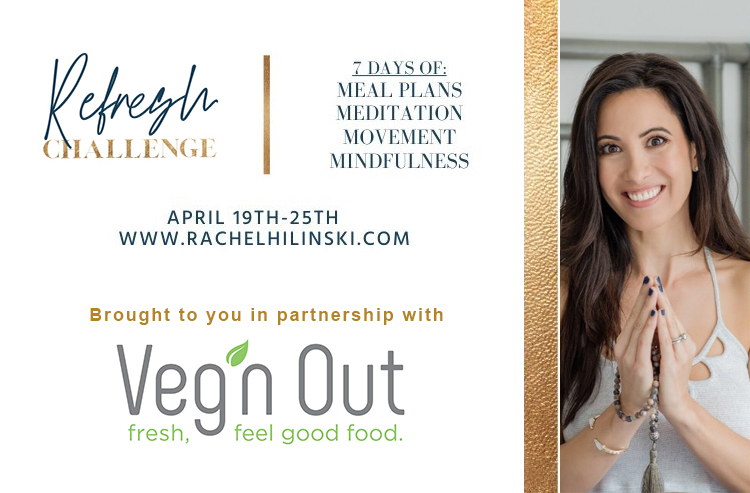 Veg'n Out, the plant-based quick-serve concept coming soon to Lake Nona Town Center, has partnered with Rachel Hilinski, a local holistic nutritionist and meditation expert, to bring the Be.Live.Change Refresh Challenge into the homes of Lake Nona residents April 19-25. The week-long program created by Hilinski helps people learn how to create sustainable habits for living healthier and happier.
With four Be.Live.Change challenges throughout the year, the Refresh Challenge focuses on nutrition, stress management, movement, sleep, alternative healthcare therapies, and mindful empowerment that requires little more than simply engaging in the prescribed activities for seven days.
The program is virtual with a complete instruction package that includes a seven-day plant-based meal plan with dinner recipes created by a local chef. Nightly emails prepare you for the day ahead. They include guided videos for breathwork, mindful movement of light stretching and yoga, and daily meditations with thoughtful affirmations. You will also be invited to join the exclusive Be.Live.Change Facebook community for virtual engagement with other program participants.
"COVID-19 has drained us mentally and emotionally. We are spent, on edge, and need to cope," said Ashley Torres, owner of Veg'n Out. "The good news is, we can take this time social distancing to reflect and refresh our mind, body and spirit."
There are three ways Lake Nona residents can participate in the Refresh Challenge, taking it to the level that matches your needs. Whether you participate in the tier one meal plan or take it further with a three-day Veg'n Out Juice & Smoothie Cleanse for a deep cleanse and immunity boost, there is an option for you.
Veg'n Out wants to make it as easy as possible for you to participate while social distancing, so they will deliver the tier two meal plan directly to your door in three convenient and contactless drops throughout the week.
"The Refresh Challenge is an easy and uplifting journey that's fun for the whole family and for friends to do together," said Hilinski. "While the world stands still, lets reflect, refocus, and refresh. Show up for seven days, and the rest falls into place naturally. Let's do it together!"
Don't miss your opportunity to come out on the other side of this pandemic balanced and better than before. Learn more about the Refresh Challenge here and the Veg'n Out Juice Cleanse and Tier 2 Meal Plan bundle here.
Sign up for the Refresh Challenge by April 15, or for early bird pricing, sign up by April 8. If you are going through a hardship as a result of COVID-19, use coupon code REFRESH20 for 20% off the already low price.

Latest posts by Lake Nona Social
(see all)