Later this year, the region will relish in three new, show-stopping dining concepts
Orlando, FL – October 8, 2021 – Ahead of its highly anticipated fall opening, Lake Nona Wave Hotel unveils its innovative food and beverage program. The hotel will consist of three restaurants and bars – Bacán, HAVEN, and Living Room Bar – each offering a distinct dining experience yet perfectly harmonized to create one of Florida's most culinary-centric hotels. 
A 17-square-mile destination dubbed "a smart city with soul," Lake Nona is one of the most technologically advanced communities in the country. Just as impressive are the eclectic restaurants and entertainment venues including Boxi Park, among the first-of-its-kind on the East Coast that integrates food and outdoor entertainment using 14 re-purposed shipping containers. The latest additions to the neighborhood's booming culinary scene will be at Lake Nona Wave Hotel with boundary-breaking restaurants and bars, an experiential pool deck, and transformative entertainment.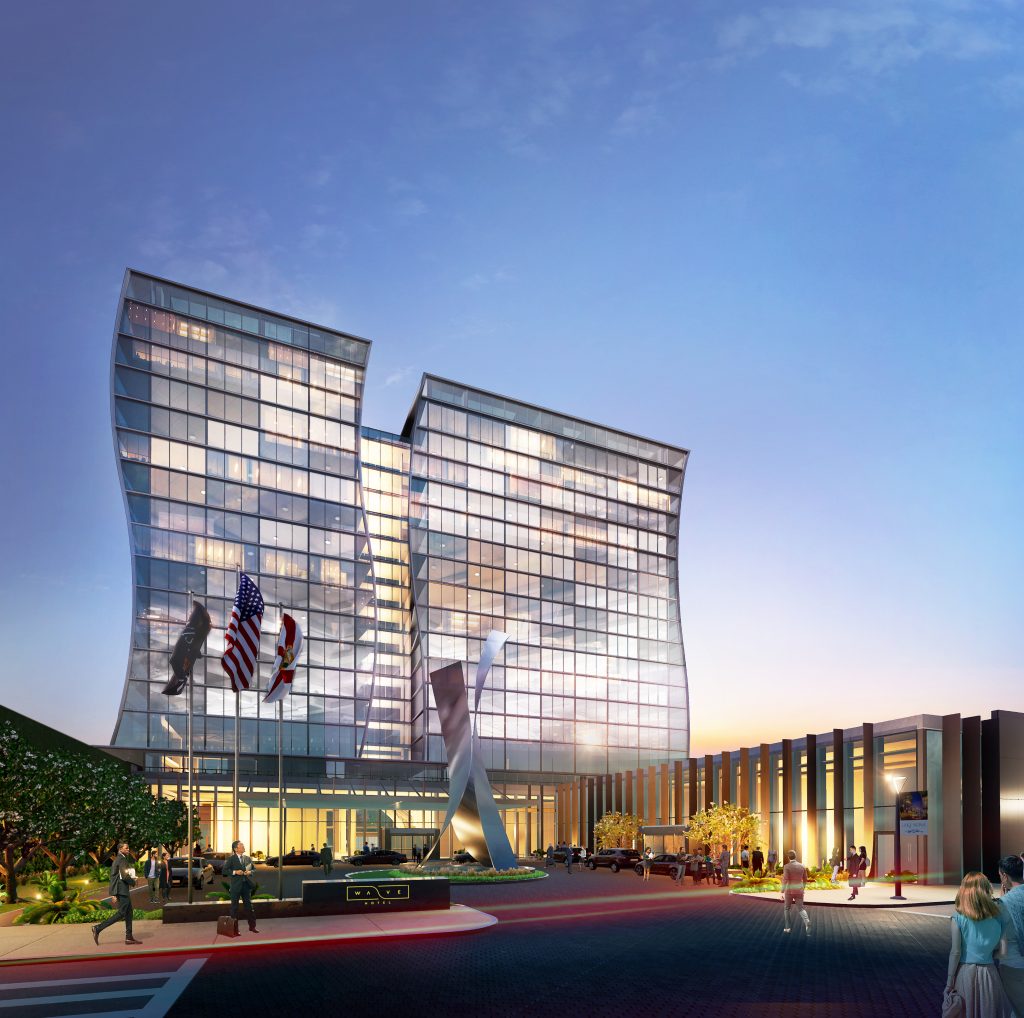 At the helm of the hotel's culinary concepts is Chef Guillaume Robin, originally from northwestern France and joining the hotel from JW Marriott Orlando Bonnet Creek Resort & Spa, whose culinary prowess comes from spending nearly two decades in Michelin-starred kitchens and 4- and 5-star hotels across the U.S. and Europe. He is joined by two-time World Pastry Champion Laurent Branlard who will serve as the hotel's pastry chef, and Beverage Manager Alexa Delgado – a top finalist for Casa Dragones Tequila's International Cocktail Competition.
Furthering the hotel's commitment to innovation and futurism, the all-star line-up will be joined by Rosie, the hotel's robot butler, who will complement food and drink delivery for events. Aptly named in honor of the Jetson's loyal housekeeper, Rosie will use 3D cameras and LIDAR technology to navigate, which is the same technology used by autonomous vehicles.
"As a destination, Lake Nona has played a prominent role in how we envisioned and ultimately created our food and beverage program," Chef Guillaume Robin said. "At the heart of this beautifully designed community lies innovation, cutting-edge thinking, and thoughtful experiences. Incorporating each of these elements into our menus and sharing our team's culinary ingenuity with hotel guests is our utmost priority."
Bacán
Influenced by the ingredients and techniques of Central and South American cuisine, Bacán offers an upscale yet approachable dining journey. Boasting a bold open-kitchen design, the hotel's signature venue features jewel-toned seating, dozens of gold lanterns, and gallery-worthy artwork with a spotlight on a striking 20-foot piece by artist Amy Rader, recently selected to represent Tesla and Microsoft at Art Basel.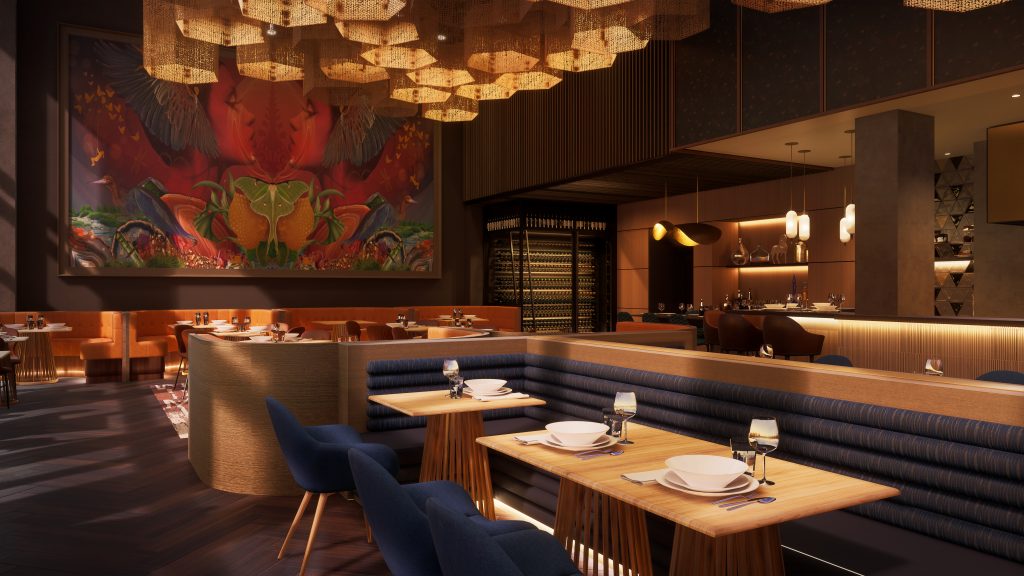 Chef Robin and his team have created a stand-out menu with sophisticated plates including traditionally cooked Branzino a la Plancha and the Whole Truffle Chicken Two Ways that is a result of bringing chicken overnight, cooking in truffle butter for six hours, and roasting in a rotisserie before frying a portion of the chicken to offer the dish in two ways: roasted and fried. 
Placing an emphasis on supporting the local community, Bacán has partnered with nearby fishermen for fresh catch as well as Orlando farms like Lake Meadow Naturals, specializing in cage-free chicken eggs, duck eggs, poultry and more. The eclectic wine list features more than 60 selections including an Orlando varietal, wines from Mexico and Greece as well as Australian, New Zealand and South African wines.
Creating a confectionary heaven in Lake Nona, Laurent Branlard brings more than 30 years of culinary devotion to his position as the hotel's esteemed Pastry Chef. Diners will be treated to the two-time World Pastry Champion's desserts including a Chocolate Sphere that melts once a chocolate sauce is drizzled over it and expertly paired with strawberry ice cream and foam clouds.
HAVEN
Tranquil by day and upbeat by night, Haven will be comprised of two distinct indoor and outdoor experiences. From the botanical restaurant space and outdoor lounge to the expansive sun-soaked deck, HAVEN's dining offerings flow seamlessly from an indoor lounge to bustling outdoor pool-scape.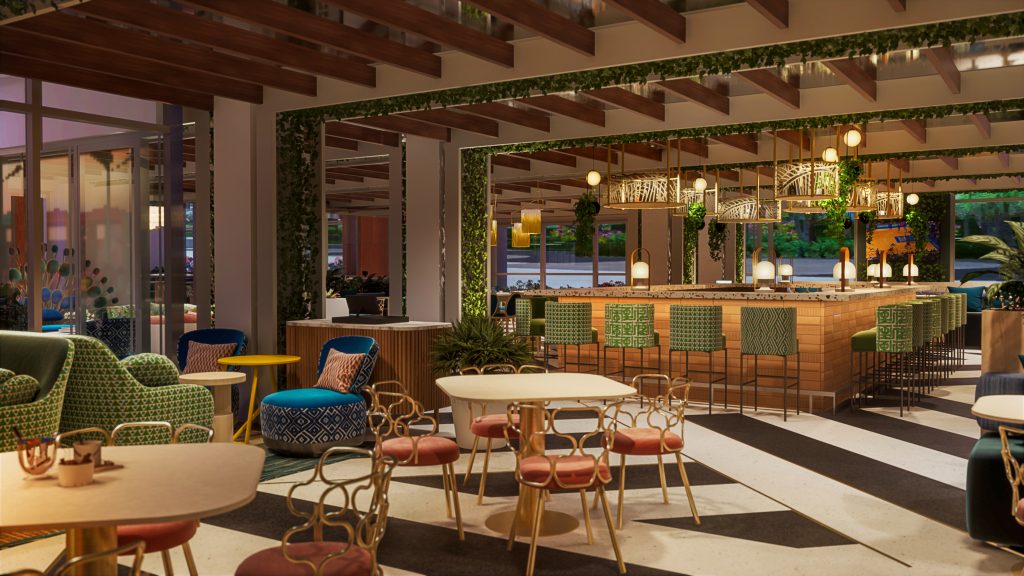 Designed to be Central Florida's chicest pool scene accentuated by a myriad of candy-colored cabanas, HAVEN Pool is sprinkled with mint green palm fronds and lined with neon loungers and seating nooks. Surrounding the pool, the energized deck offers favorites including fresh salads, sandwiches, milkshakes, smoothies, frozen beverages, and health-inspired cocktails.
HAVEN Kitchen will emerge as a lively Mediterranean restaurant and bar perched above the buzzing Living Room Bar. Exuding energy inspired by its name, HAVEN Kitchen will be enriched with emerald green and midnight blue hues, gold accents, and intricate design details designed to bring the outdoors, indoors. Under HAVEN Kitchen'strellis-like ceiling, the space includes lush greenery and an extraordinary velvet, feathered peacock chair sure to become an Instagram hotspot. Serving breakfast, lunch, and dinner, the menu will feature selections such as poached lobster and burrata with green goddess cream. The innovative cocktail menu features G + Tea, a Spanish-style gin and tonic, with handcrafted Earl Grey Bitters from a female-founded company called 18.21.
Living Room Bar
Offering a vibrant setting for guests and locals to mingle, Living Room Bar is set to become the neighborhood's most coveted morning-to-night venue where guests will kick the day off with health-minded breakfast options and end with master mixology and mouth-watering small plates.
Situated in the hotel's Living Room, the Bar allows the hotel to integrate into the broader community, introducing guests and locals to the neighborhood's creators, tastemakers, and business leaders. With a bright Pink Dogwood tree acting as the show-stopping centerpiece of the space, the bar will feature intimate seating areas, a dramatic stadium staircase lounge, and an eccentric game room all adorned with pop-art-inspired niches that serve as playful conversation starters.
A featured mixologist at the distinguished Tales of a Cocktail festival, Beverage Manager Alexa Delgado brings her expertise as a female trailblazer in the luxury hospitality and beverage world to the hotels' ground-level cocktail destination. Hyper-focused on partnering with diversity championing brands and bringing her own unique stamp of creativity, guests will imbibe on the creations of Delgado's mixology program playing off classics and focusing on sustainability by utilizing ingredients from other restaurants and bars. For example, guests can find the Peruvian peppers used in Bacán also applied to the flavored ice cubes in Living Room Bar's Spicy Margarita. Delgado's passion for the local beverage scene is also evident in Rhapsody in Blue, which features a cordial made with a locally made blueberry-merlot, produced by JamminWines located just minutes from the hotel. 
Serving as an extension of Bacán's menu, the bar's selection of light bites features South American-inspired dishes like charred octopus with Argentinian chimichurri and smoked feta with black olive dust. The Pink Dogwood tree will illuminate and bring the space to life each evening. To celebrate the nightly tradition, guests will be invited to 'Light the Night' where tastings of select dishes and demonstration mixology will feature alongside an opportunity to mix and mingle with the hotel team members to start an unforgettable night.
Events and Private Dining
Lake Nona Wave Hotel is also home to 12,000 square feet of event space, leading-edge technology for hybrid events, and gourmet catering with savory creations by Chef Robin and beverage programming by Delgado. Signature dishes will range from elegant to playful featuring selections like the showstopping smoked scallop appetizer with a glass cloche reveal as well as a Cereal Killer buffet with nostalgic cereals that evoke childhood memories.

Latest posts by Lake Nona Social
(see all)