At Endurance Wellness + Weight Loss, we focus on targeting fat reduction from all angles. We have created a weight loss program focused on eating right and routine physical activity, in addition to weight loss support medications. Despite this, some of us still have those stubborn body areas that are difficult to target. We have found that losing weight is not the same as losing fat cells. We have a predetermined amount of fat cells, or adipocytes, by the time we reach adulthood. These adipocytes have the ability to increase or decrease in size and thus reflected on the scale, or our body weight. Losing or gaining weight generally does not decrease or increase the number of fat cells. Instead, it changes the size. And then there was Coolsculpting….
Coolsculpting is an advanced, FDA cleared procedure that targets stubborn "pockets of fat." It is a nonsurgical fat reduction procedure that has shown success in reducing the actual number of fat cells in the treated area by about 20%, which is comparable to liposuction but without the downtime or anesthesia. It works but using controlled cooling to naturally induce fat cell death.
These fat cells are eliminated for good!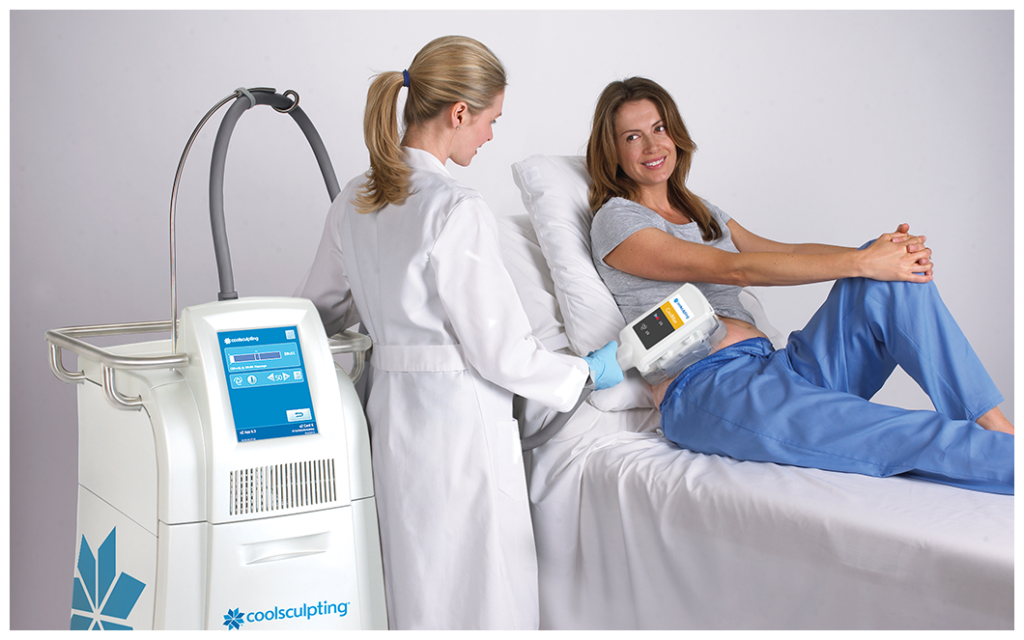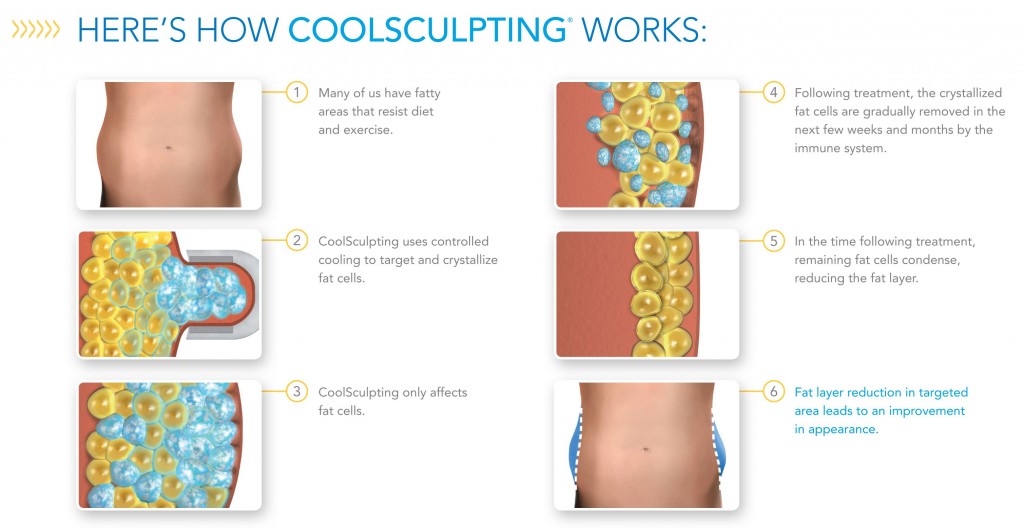 Ask yourself…
1. Do I have a noticeable bulge of fat not easily reduced by diet and exercise?
2. Am I near my ideal body weight?
3. Do I want a safe and effective fat reduction procedure that doesn't require surgery or downtime and is FDA approved?
Then Coolsculpting may be right for you!
Frequently asked questions:
1. Is it safe?
The CoolSculpting procedure is FDA-cleared for the treatment of visible fat bulges in the submental area, thigh, abdomen, back, and flank . As the #1 non-invasive fat reduction procedure and with millions of CoolSculpting procedures performed worldwide, it is proven to be a safe and effective treatment.
2. How long is each treatment? How many treatments will I need?
You will work closely with our CoolSculpting specialist to help you create an individualized treatment plan tailored to your specific goals. The length your CoolSculpting treatment will vary, while each CoolSculpting treatment generally lasts about 1 hour. Some patients have more than one treatment during the same office visit.
3. What does it feel like?
As the cooling begins during the first few minutes, you may typically feel intense cold. This soon dissipates. With some applicators, you'll feel some pulling as suction is applied. The area generally goes numb within 5 to 10 minutes during treatment. Many people read, watch videos, work on their laptop, or even take a nap during their CoolSculpting treatment.
After the treatment, you may feel some tingling as the area is massaged for 2 or 3 minutes.
Patients are usually able to return to normal activities following their appointment.
4. Who should not have the coolsculpting procedure?
The CoolSculpting procedure is not for everyone. You should not have the CoolSculpting procedure if you suffer from cryoglobulinemia or paroxysmal cold hemoglobinuria. The CoolSculpting procedure is not a treatment for obesity. As with any medical procedure, discuss with the physician if the CoolSculpting procedure is right for you.
5. When will I see results?
You may start to see changes as quickly as 3 weeks after your treatment, and will experience the most dramatic results after 2 months. Your body will still continue to flush out fat cells for up to 4 to 6 months after treatment.
Call (407) 413-5416 to schedule your FREE consultation today

Latest posts by Lake Nona Social
(see all)