A New Beginning…
Up at 5:30. Hit the gym. Warm-up on the elliptical. Do two TRX sets. 45-minute spin class. Shower and dress. Client meeting in the conference room. Show and discuss a presentation on a big screen. Meet with the next client over coffee. Back to the workstation for the rest of the afternoon. Meet with friends for wine and throw some darts, shoot some pool. Watch the game on the big screen over a barbecue. Turn A/C down and lights on in the apartment remotely. Come home. Call it a day. A good day.
An Oasis at Moss Park Preserve day.
And you never left the property.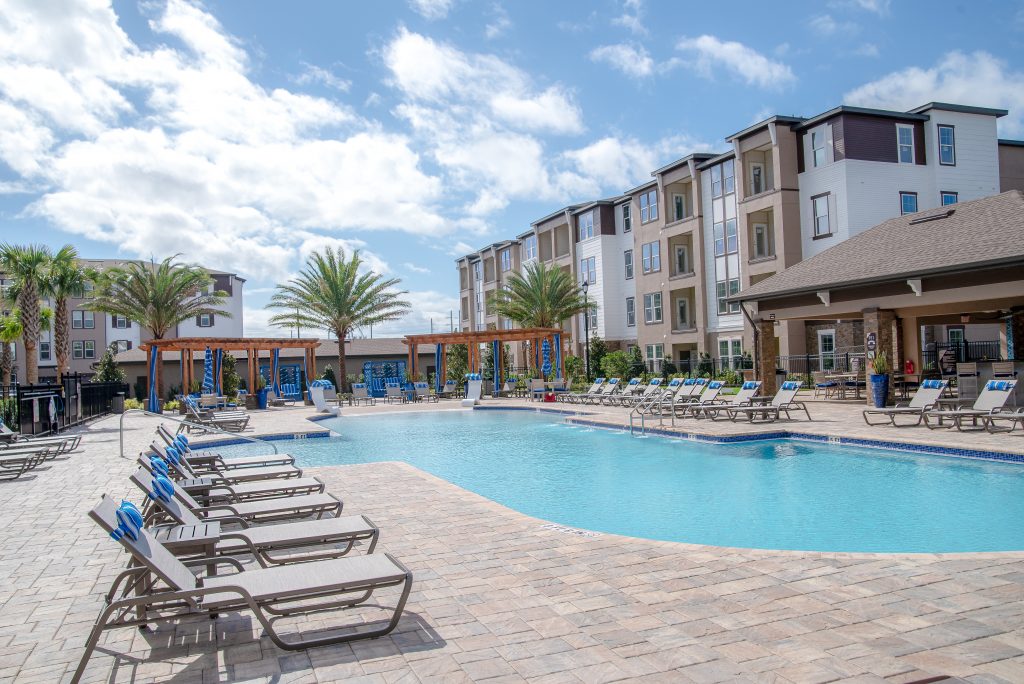 "Our design and amenities provide our residents with all they'll need without having to leave the community," says Ashleen Pellerin, a Leasing Professional at The Oasis at Moss Park. "It really sets us apart."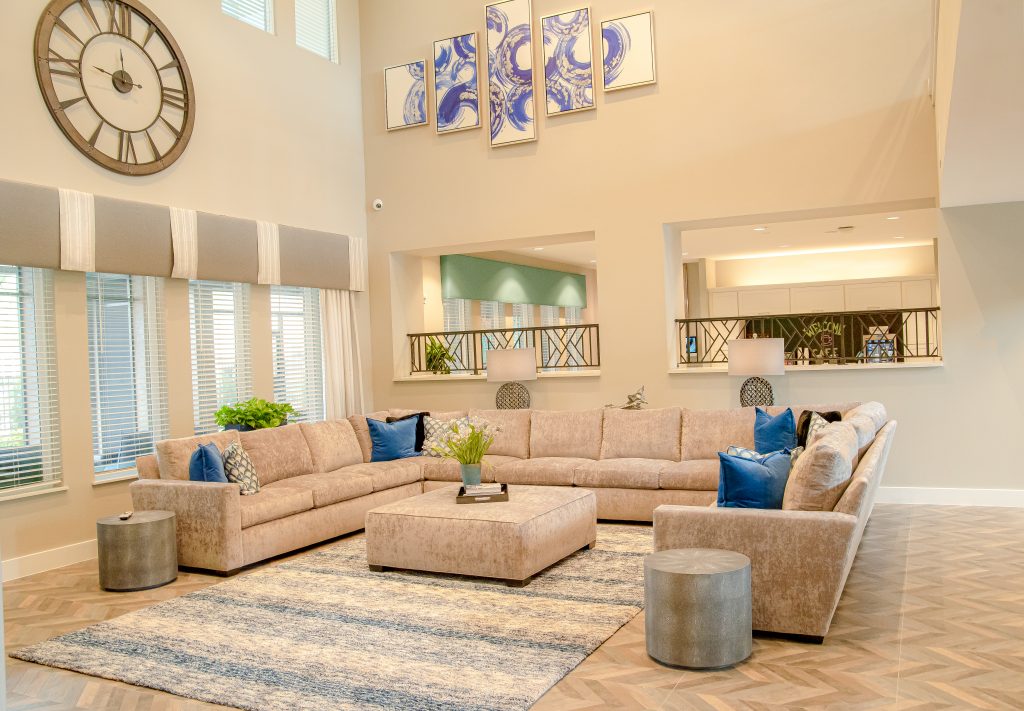 She's not kidding. A quick perusal of the facilities quickly convinces that the property is well suited to the entrepreneurial, Lake Nona lifestyle. For starters, the first floor of the clubhouse offers a luxurious lounge area around a big screen TV for socializing with friends, business discussions with clients, and waiting for Lyft or Uber service. There is a spacious kitchen area with tables and seating for 12 or more and a café (offering wine, coffee, tea, or hot chocolate on demand) for socializing or informal business gatherings. There are even two iMac computers attached to a remote printer. Fast, complimentary Wi-Fi is available throughout the building.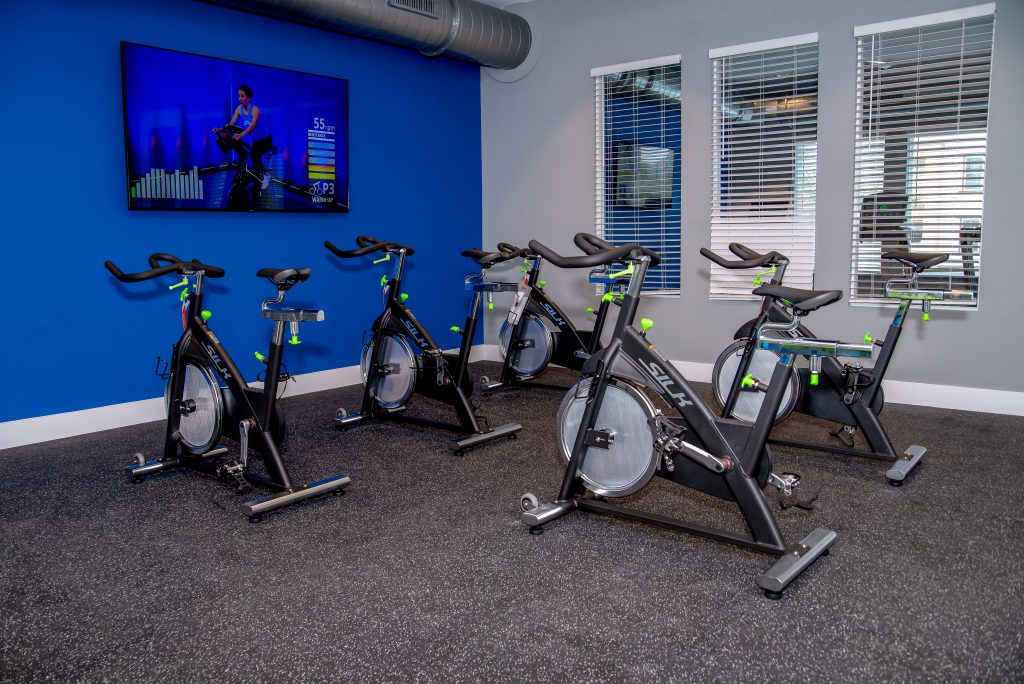 Upstairs, the fitness center boasts an array of machines and workout equipment one might expect in a membership-based spa or health club: treadmills, stair steppers, ellipticals, rowing machines, TRX gear, and a wide assortment of free weights. There is even a virtual, "Fitness on Demand," big-screen aerobics room where you can spin with a virtual trainer through mountains, forests, or other scenic routes or take virtual yoga and Pilates classes via YouTube. Both fitness rooms are accessible day or night with a resident's access code.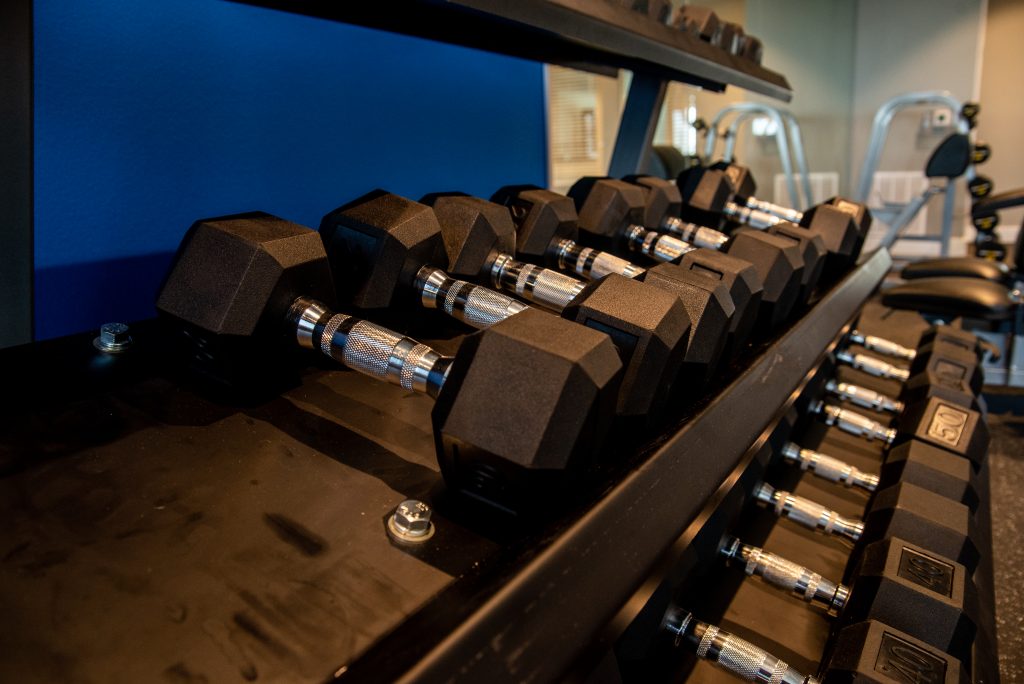 A step outside brings you to the Beach Entry Pool, a non-chlorinated, saltwater swimming area purified by a natural cleansing process that is both easier on the eyes and less harsh on the skin. It's called Beach Entry because it features a stairless, sloping ramp that allows users to enter and remain at whichever level they choose without having to submerge completely—a feature especially helpful for families with young children. The pool is long enough to provide an adequate workout for lap swimmers. There are a cabana area and chaise lounges for sunning, snoozing, or schmoozing and there are lawn games available like corn hole and giant chess.
Overlooking the pool is the "Summer Kitchen," an outdoor communal area ideal for barbecues, family gatherings or just hanging out with friends after a refreshing swim. There are two gas grills (which are cleaned daily) and all the utensils needed for grilling and preparing your favorite coal-fired, juicy delights. There is a table and bar seating for 20, a refrigerator to keep things cool, two sinks and a counter area for those last-minute preparations, and conveniently located restrooms. No reservations (or reservation fees) are necessary and it is available to residents and their guests on a "first come, first served" basis.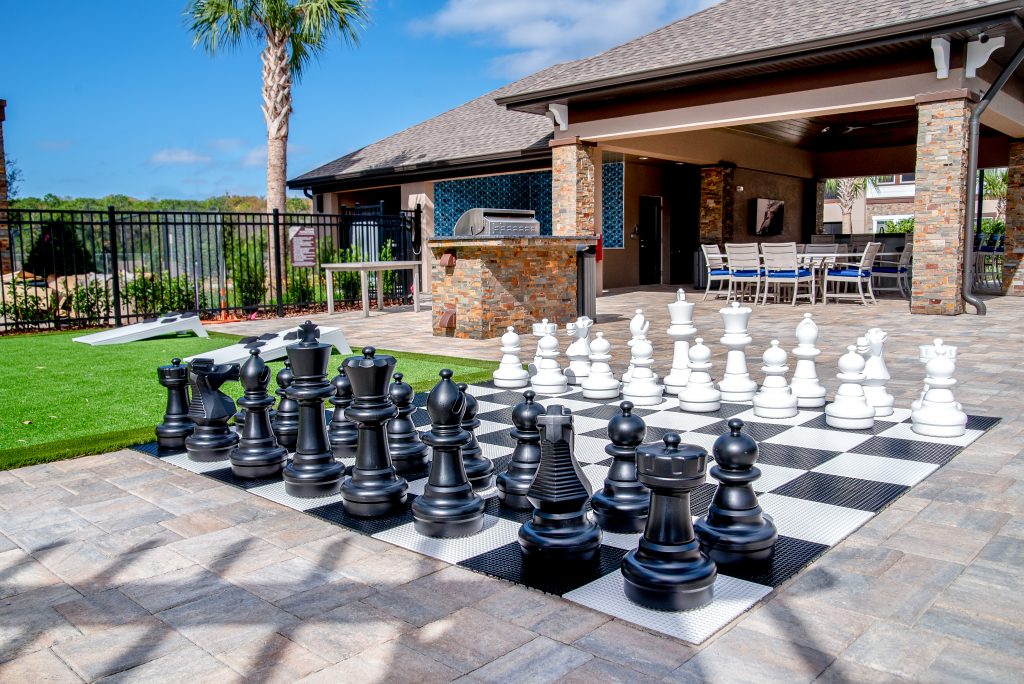 After dinner, you can return to a cabana to stretch out, or escape to the screened lanai to catch up on the news, watch the game, play ping pong, work on that proposal via Wi-Fi or watch the goings-on around the pool. The spacious portico boasts sumptuous lounge chairs and sofas as well as tables for workspace or board games. There is even a giant "connect four" for kids of all ages.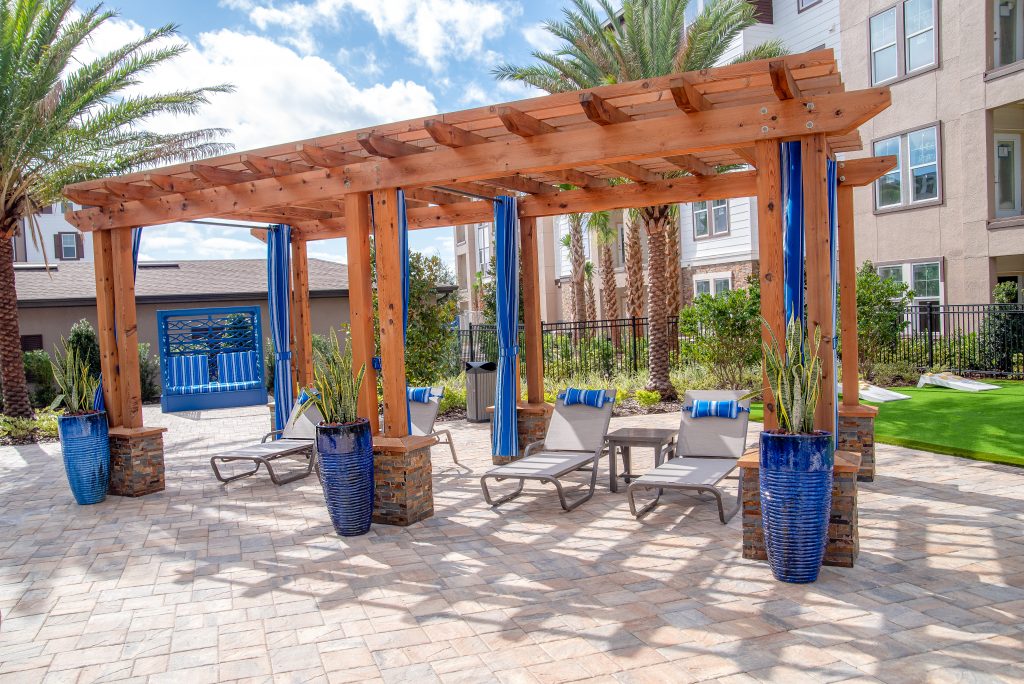 Maybe indoor recreation is more of your liking. If so, with the upstairs game room you have all the fun of a sports bar right there in your community. There are arcade games like Pacman and Fogger, pinball, foosball, dart boards a pool table, and mini indoor shuffleboard. Three large screen TVs offer access to ESPN, Netflix, YouTube, or regular broadcast programming and a refrigerator and countertop space facilitate snack prep and presentation.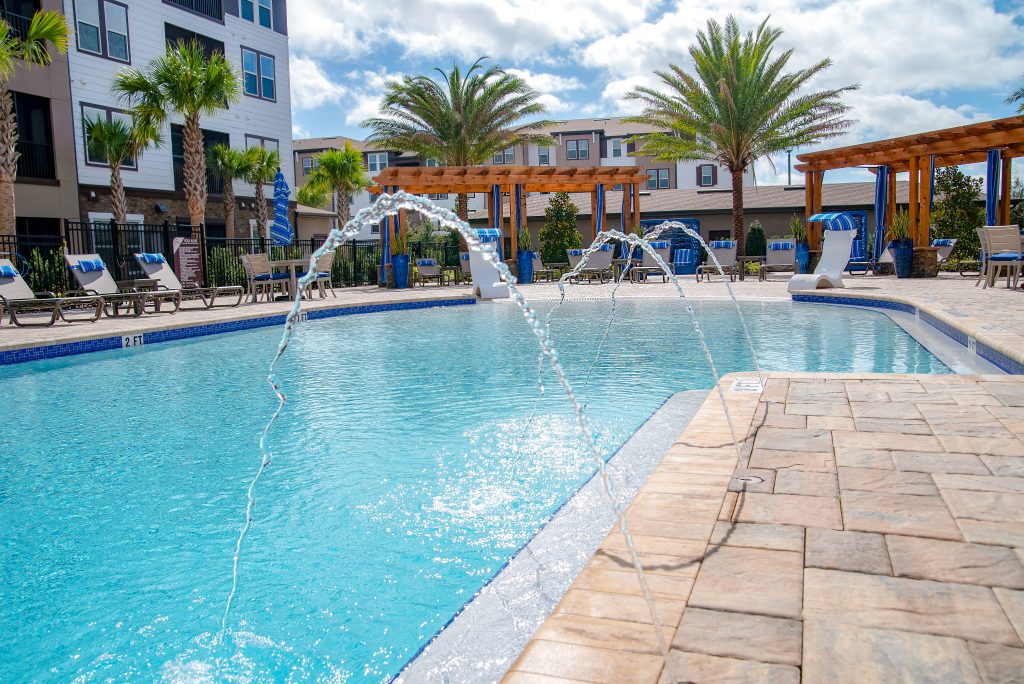 The professionally appointed business center, also on the second floor, offers a conference area with a table, large screen TV and Bluetooth keyboard (PC based), local printer, and fast (300/20 Mbps) Wi-Fi. The adjacent work area offers three computers (also PC based) and additional workspace.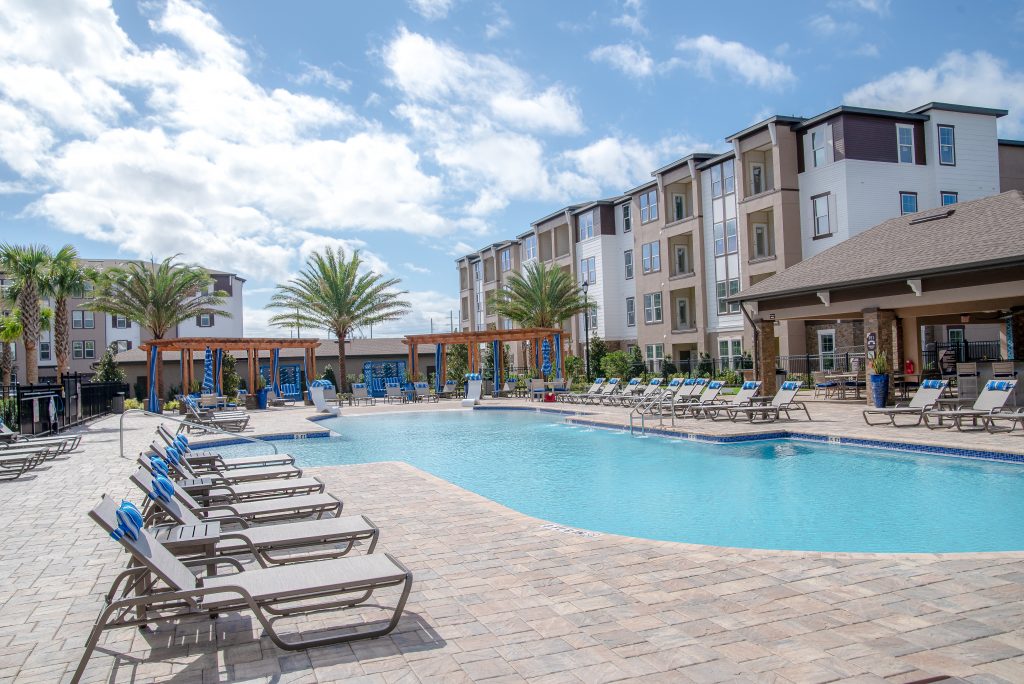 The Oasis one-story apartment units offer 17 different floor plans and boast energy-efficient, stainless steel Samsung appliances, and full-sized washers and dryers. There are Ethernet ports in all bedrooms and living rooms, USB charging ports in the kitchen and bedrooms, and one Alexa-compatible outlet in each unit. Residents enjoy keyless entry via a smartphone app which also allows remote access to thermostats and kitchen lights. Should the need arise, maintenance is on call 24/7. Parking at The Oasis is "first come, first served," with one space per resident. Attached and free-standing garages are available as well as additional storage areas for a separate fee. There are charging stations for electric vehicles near the clubhouse.
The leasing office is open from 9:00 a.m. to 5:00 p.m., Monday through Friday; 10:00 to 5:00 on Saturday and 12:00 to 5:00 on Sunday. Call (844) 813-0273 for additional information or to schedule a tour.

Latest posts by Lake Nona Social
(see all)