Soccer for Everyone XL Soccer World Brings a World of Fun to Lake Nona
The kids gather on the field for one last drive at the goal. Charlie has a corner kick. Hearts pounding, players on both sides anticipate. They've trained long and hard and it's all come down to this. Parents, families, and other onlookers cheer. The air is electric. Charlie sets the ball and teamwork takes it right to the goal for the final point. And the win.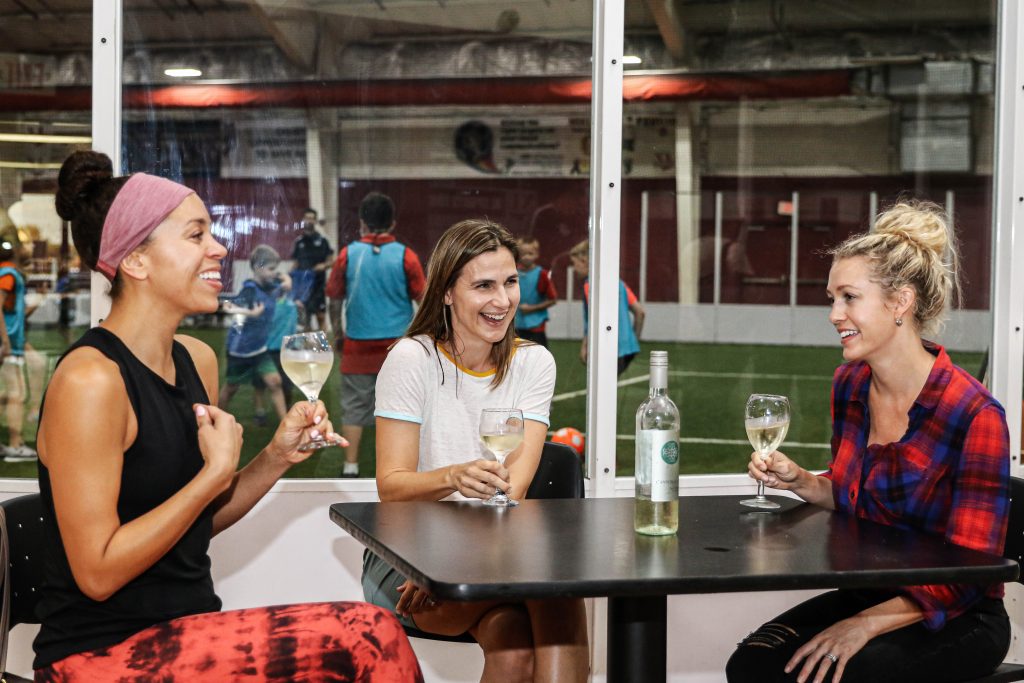 "It doesn't get any better than this," says Charlie's mom.
"Yeah," quips his dad. "Where else can you go for this kind of excitement, where the kids are having the time of their lives and learning life skills at the same time? It's really fun for the whole family."
"And that's just the point," says Grace Bowman, General Manager of XL Soccer World Lake Nona. "What we're about here is providing a place where families can hang out and build memories together as they engage in the fun and discipline of an incredibly exciting sport. Tots, kids, adults—all can experience the thrill of being on the field while their friends and family members cheer them on. We want XL Soccer World Lake Nona to be the place where people of all ages can come and experience the highlight of their day."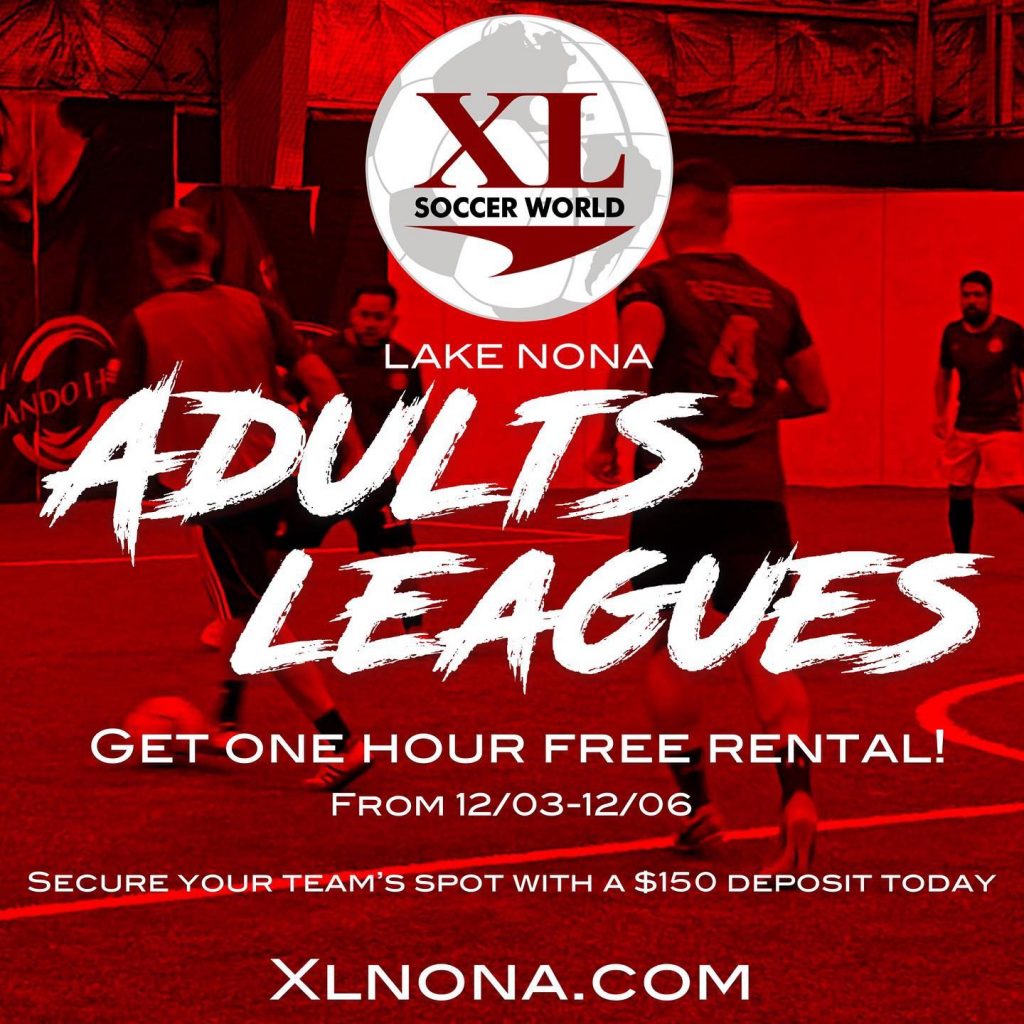 After an extremely successful run with their Winter Park facility, the company is opening their Lake Nona complex, the first of their 10 locations nationwide to be built from the ground
up, rather than being a renovated tennis club or repurposed warehouse. XL Soccer World Lake Nona, Bowman says, will be a fully air conditioned, state-of-the art indoor soccer facility boasting two full-sized fields (with surrounding backboards) and equipped with fifth generation (5G) artificial turf that closely simulates the traction of natural grass. Electronic scoreboards that can be controlled by guests grace each field, and video recording and playback is available for all adult games.
In addition, XL Soccer World Lake Nona boasts two full sized hard-floored courts for volleyball and futsal, a soccer-like game played with a smaller, heavier ball that is more passing-intensive than regular soccer. In fact, they are the only fully air conditioned, dedicated hard-floored courts of their kind in Central Florida. There are ample locker room facilities and a spacious changing area. And, as a hat tip to the Lake Nona lifestyle, there is abundant bicycle parking for those who embrace an all-around athletic experience.
For the fans, there is a leisure bar, restaurant and lounge area snuggled between the soccer fields and overlooking the Futsal courts, immersing guests in the action while allowing them to enjoy their favorite beverages and comfort foods as they cheer on their players from their full field viewing or strategically positioned large-screen TVs.
"We want to provide a place where moms can bring the kids, socialize and share a glass of wine as they watch their kids' teams play soccer," Bowman says.
And, incidentally, teamwork is a part of the warp and woof of XL Soccer World Lake Nona. There are team programs for all ages, each one beginning with soccer, but enriching the participants' lives with so much more.
Perhaps the most ambitious program XL Soccer Lake Nona will offer is their soccer ACADEMY, which they will extend from their Winter Park facility. The ACADEMY recruits, then trains driven and talented young people in a full-time, integrated program of academics and athletics to identify and prepare the professional soccer stars of tomorrow. Led by the ex-Leeds United, Manchester United and England star, Alan Smith, and ex-Orlando City star, Luke Boden, the ACADEMY teaches soccer but also life skills such as the importance of achievement, teamwork and character.
Bowman says the hope is to have a hugely positive impact on the lives of ACADEMY participants, while finding the next International player. Whether their students go on to play professional soccer or not, his hope is that they will find college scholarships and integrate the skills learned at the ACADEMY into whatever field of endeavor they pursue.
"Teamwork, focus, emotional intelligence and positive attitude are the primary fundamentals that we teach our students (clients) that translate well to the business world and to everyday life," Bowman says. We want them to be disciplined, passionate and fully committed to making a success of anything they do in life," she says.
In addition to the indoor fields, there are plans to develop full-sized, professional outdoor fields and training areas in the near future. All can be booked directly for private use by individuals, teams, corporations or for family gatherings. In addition, there are three interconnected break out rooms for birthday parties and other family events or for corporate meetings and training. Each room seats 20 comfortably for a total of 60 when all are connected. A variety of leagues are available for those wishing to compete in organized tournaments with
equipment and referees at all talent levels. XL Soccer World Lake Nona also offers regular pick up sessions for individuals wishing to find and play on teams, a must for those new to the Lake Nona area who would like to integrate quickly, and find and make new friends. After school programs are also available.
XL Soccer World Lake Nona is located at 12314 Suttner Ave, Orlando, FL 32827. The grand opening is slated for later this month with programs starting 5 December. Phone number during construction: (407) 641-4791. For additional information, please visit the XL Soccer World Lake Nona website (https://www.xlnona.com/) or Facebook page https://www.facebook.com/xlnona).

Latest posts by Lake Nona Social
(see all)