Lake Nona Landscape Professional Cares for More Than Just Your lawn
Chris Regis' first business enterprise failed.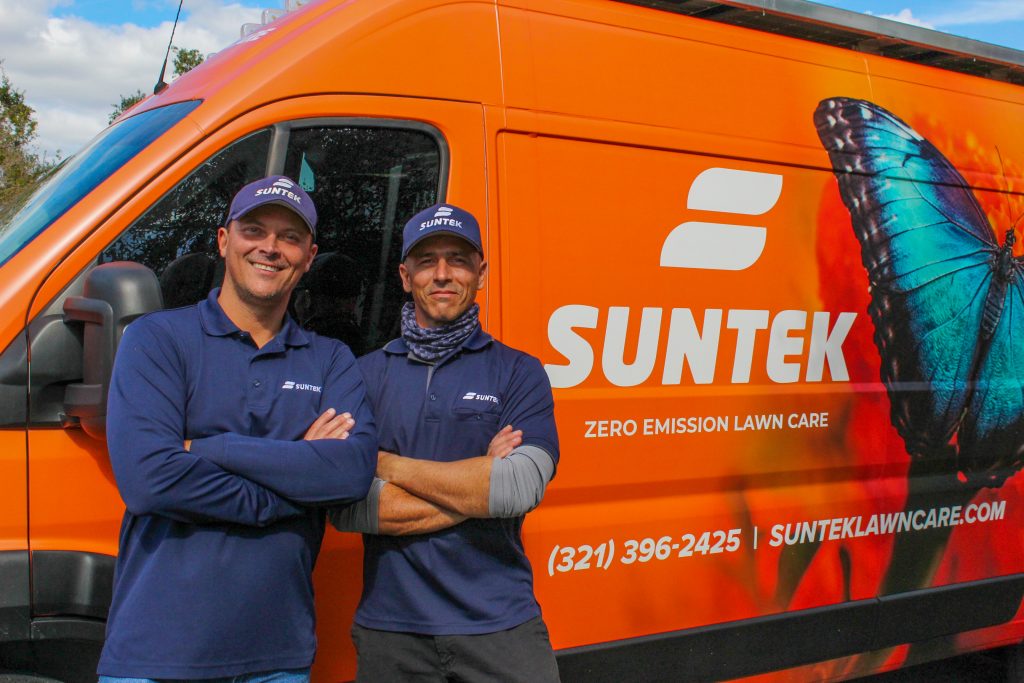 He admits, it was poor planning. Then again, he was nine years old and hadn't given the future much thought. Seems he had bought a couple of rabbits and planned on raising them on his grandfather's farm as his cousin had done with great success. His rabbits multiplied, as they are wont to do, and his grandfather supplied the cages and housing for his flourishing fluffle (rabbit community). When the census of his colony reached 100, and promised to provide a steady stream of rabbit meat for a host of ready customers, the reality hit:
He would have to butcher them!
"I thought, 'Oh my God, I'll have to kill them,' Chris says. "I hadn't thought the process through. My cousin was raising them and all I could see was the fun and excitement of it. He had a successful business selling rabbit meat to restaurants, but I never made the connection! I couldn't do it. I stopped breeding and gave them all away."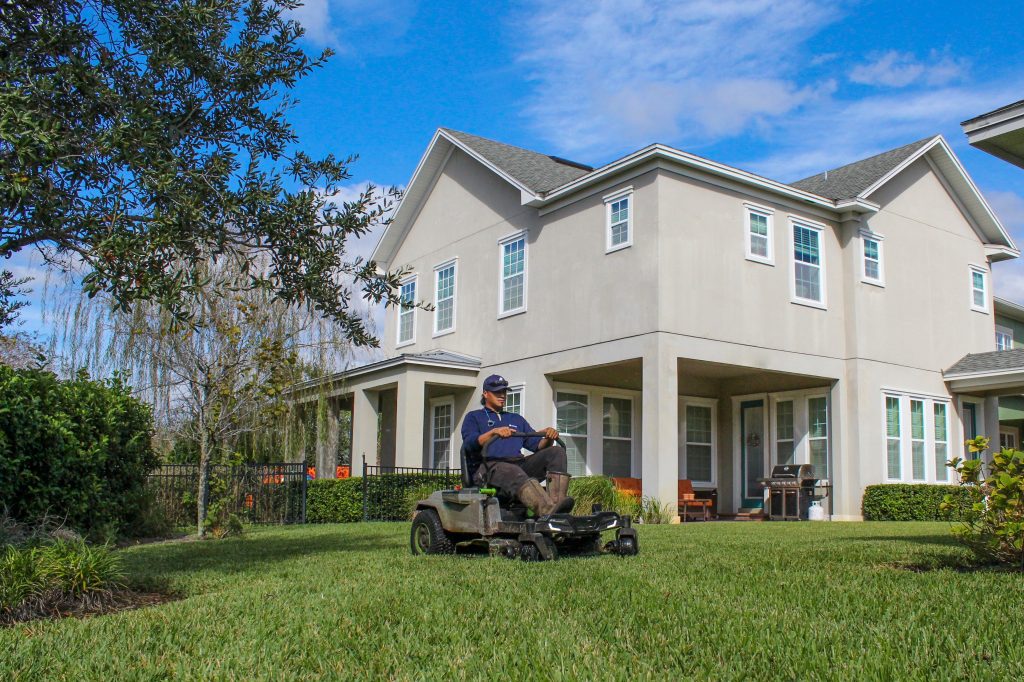 Despite this first less-than-successful foray, Regis admits he'd always wanted to be an entrepreneur. He says it came from watching his father start all sorts of businesses: he purchased an airplane in the '70s to provide charter flights to Brazil; he started an aloe vera farm to sell plants and their by-products to pharmaceutical facilities; he started a coconut water bottling farm, began mining companies, even opened a motorcycle manufacturing plant. Although each of these projects held substantial promise, none of them ever came to be a viable, sustaining enterprise; a reality that was not lost on the younger Regis.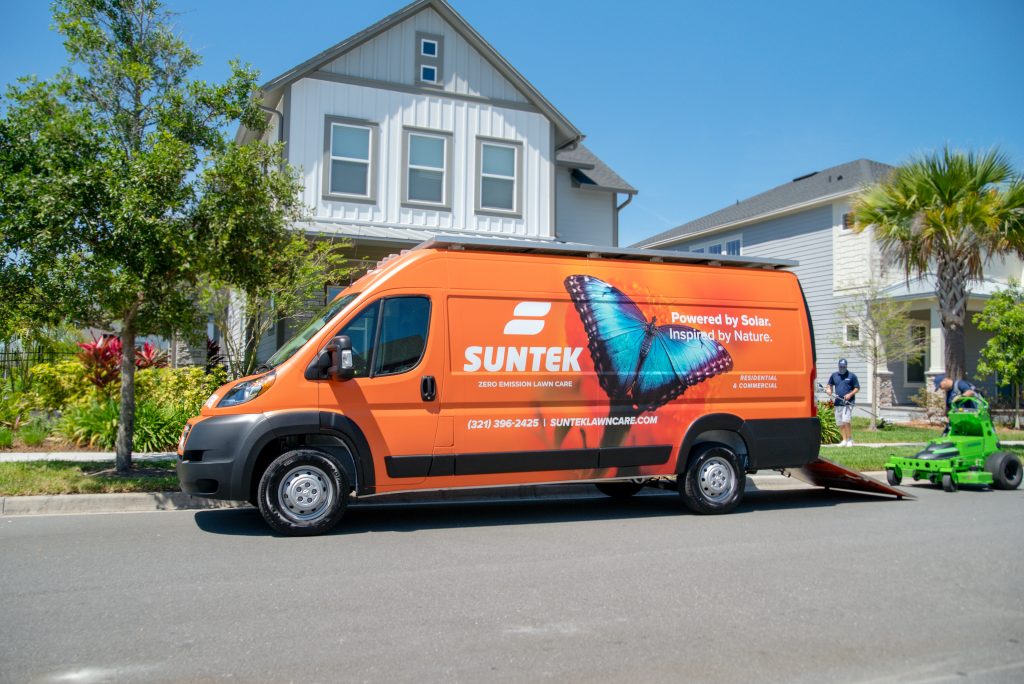 "He never stuck with anything long enough for it to strike gold," Regis says. "I'm more focused because of that. I understand that building a business is less of a sprint and more of a marathon." He says watching his father helped him realize that, to succeed in business, you need more than a good product. You need strong core values, an overarching mission, and—most importantly—a team of good people with whom you can share that mission and those values who can then work with you to reach your goal.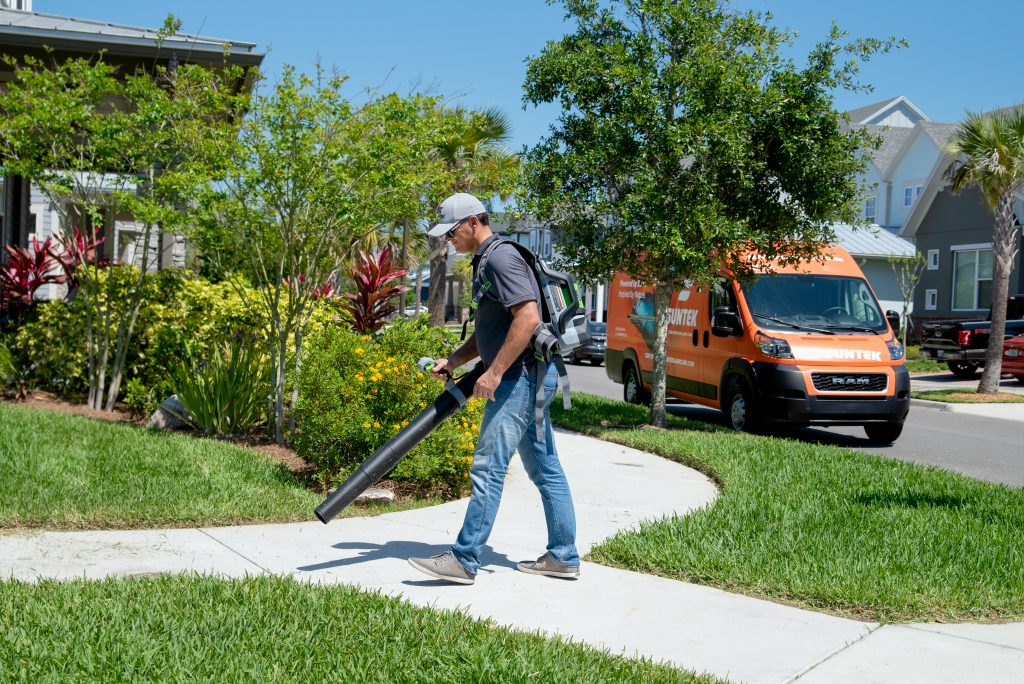 After acquiring a business degree, Regis went to work at a Ford/Lincoln/Mazda dealership and quickly became its top performer. He attributes his success to mentors who taught him that, in the end, success in sales—or in any endeavor—comes by listening, providing an essential service, and making others successful.
He says the most valuable lesson he learned from his mentors was the concept of servant leadership: empower the people around you; build community; listen to your customers and put the needs of others ahead of your own.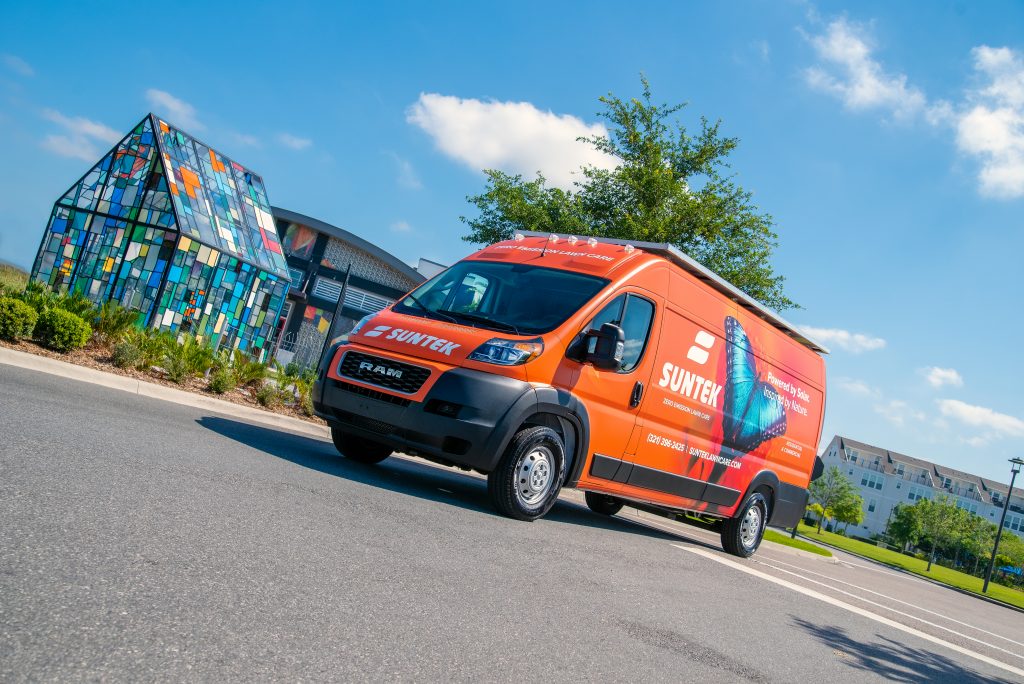 It wasn't long before he was applying those principles packaging franchises for investment clients: helping them develop business plans and obtain visas, ensuring the product and plan fit the personality of each investor. During this time, he developed valuable skills that serve him well today with Suntek. But he was also discovering the dangerous impact commercial and consumer lawn equipment was having on the environment. He learned that although the EPA holds the auto industry to strict air quality standards, none exist for smaller gasoline-powered machines.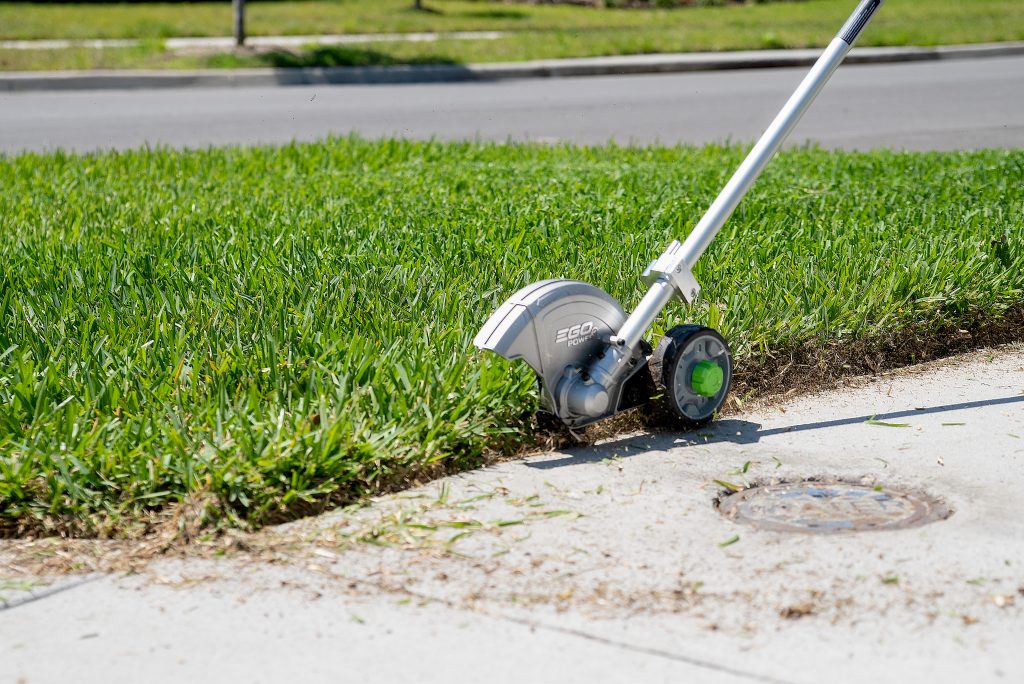 "One gas powered mower pollutes like 11 cars in one hour," he says. "The EPA also estimates that 17 million gallons of fuel are spilled every year by lawncare professionals. Gasoline liquid and exhaust fumes are known to have negative health effects. This impacts families and, especially, the workers who use the equipment—putting them both at risk."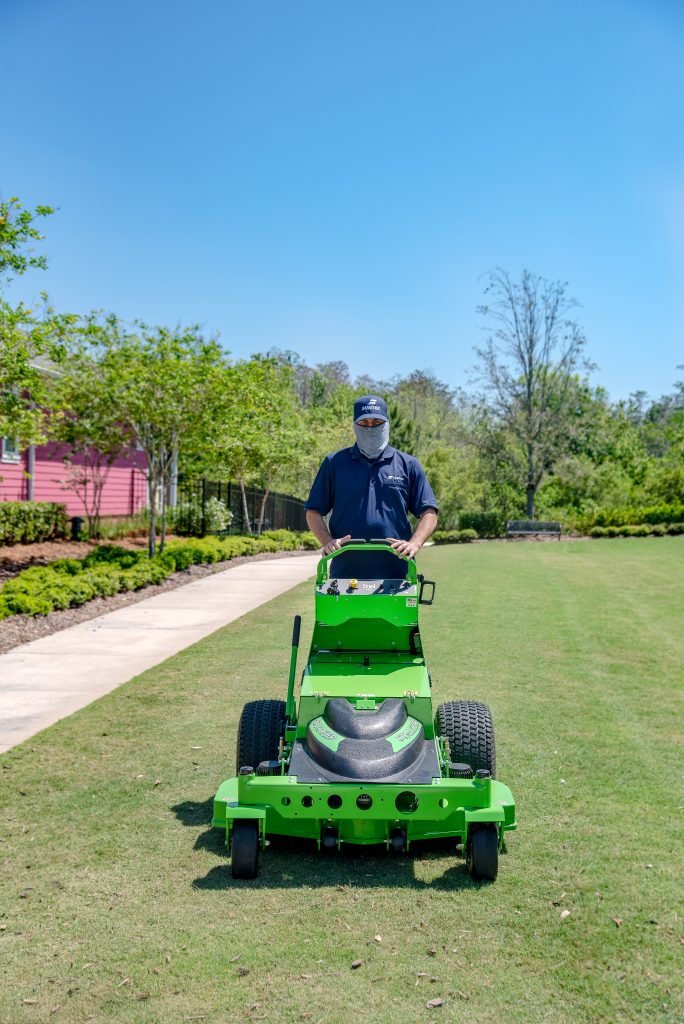 Regis determined to do his part to alleviate the environmental and personal impact of these gasoline powered devices. He would develop a sustainable lawncare model that he could then reproduce and distribute via franchise for the greatest environmental and personal impact. He began researching solar powered equipment. He went door to door, canvasing residents to learn what their primary lawncare needs were, and what they would like to see in a "clean" alternative. He researched products, companies and the cost of supplies. He doggedly followed trade shows and machine manufacturers until he found the right product and had come up with the right implementation formula and business plan.
Then he "got into the business by doing the business." He purchased a green lawncare operation in Windermere. He worked the business as his research continued, this time, as to the most effective way to rebrand and retool his "all solar" concept into a viable franchise product that would successfully blend into the fabric of the Lake Nona community. This involved augmenting the current technology with his own enhancements for a self-contained model that was readily transferrable. He added a solar panel recharger for his vans so that all the batteries used by his equipment could be recharged on location. Then, if the need should arise for a more comprehensive charge, he added a home base station that could charge the van and all its contents in less than 3 hours.
With this clean enterprise in place, Suntek is only one of five solar companies out a million lawncare companies in the United States to receive a certification by the American Green Zone Alliance (AGZA), an organization that enacts strict standards and encourages the best sustainable practices nationwide.
But an acclaimed and successful business infrastructure is only a part of the Suntek story.
"People ask what's my 'secret sauce?' he says. "What makes Suntek so successful? I tell them, 'it's about our staff and our customers.' Suntek is putting a different face on the lawncare industry, but the technology is only the tool."
Because lawn workers often arrive on the job looking dirty and disheveled, Suntek technicians arrive clean and professionally attired. Where many homeowners never speak to the individuals that trim their lawns and manicure their hedges, Suntek technicians develop lasting friendships with their clients. Where many lawncare workers are in such a hurry to get to their next assignment that they blow through a client's yard, not much caring about the final product, the Suntek guys take their time, working diligently and methodically, knowing that they're working for their friends, not a faceless customer.
"When we start a new account," says technician, Bryan Crisp, "we knock on the door and actually meet customer. We learn their names. We learn their kids names. We even learn their pet's names. During the holidays we exchange gift cards. We recognize their birthdays. They become our friends, not just another customer. All the other companies I worked for, I never got a chance to communicate with the customers like this," he says.
Regis says it's all in the training. He holds meetings, first thing in the morning, to inspire his guys to believe in themselves and the opportunities their work gives them to enhance the lives of everyone they encounter. He teaches them proper presentation practices and how to communicate. He trains them to be listening, concerned professionals whose purpose it is to better their customers' lives. His goal is to empower and train them to take hold of a future they might not have had working for someone else in their field.
"I give them ownership. If they take ownership when they work for me, they'll certainly take it when they're on their own. The more successful they are, the stronger the brand and the bigger the impact we'll make on our world," he says.
"I knew more about landscaping than Chris did when I came on board," says Lead technician, Luis Adorno, who had worked in the industry for 14 years before coming to Suntek. "I showed him what I could do, taught him things he didn't know, and he trusted me and applied my suggestions. Chris is open and honest; different from anyone I've ever worked for. He makes you feel like family and not just a worker."
Regis' rigorous training and preparation not only gives his technicians the skills to excel in their current positions, but also gives them the tools they will need should they desire to step up and take the reins of a franchise. He puts them in touch with lenders and offers them special pricing on equipment and franchise fees, but he also teaches them how to prepare their credit for financing. In short, he gives them whatever they'll need to become successful business owners.
These franchisees will continue their connection to Chris and all his improvements to the business model. They will hold their own inspirational morning meetings and train their own teams, even as he has trained them. In turn, they will offer a new life and future to an ever widening team of green lawncare professionals.
"Suntek makes me feel needed and important," says Crisp. "Your work is appreciated and not overlooked. Chris, the customers, treat you like a normal human being. When I wake up in the morning, I feel better about myself. Lawn care has become an actual career for me, not just a job. There's opportunity to grow and bring people with you."
"The Suntek guys care about what they do," says Shane Reynolds, a satisfied customer. "They don't just cut your grass, they want to know whether you're satisfied with the service. There's attention to detail. They're courteous and prompt. They even teach us how to better care for our property. A lot of companies will come out and do the bare minimum. That's not the case with Suntek. They're always asking what they can do better. They're proactive. Always making sure we're happy."
"They're being solar powered limits the noise around the house and that's a top priority for me with a new baby," says Hillary, another satisfied customer. "They're thorough. They get to things before I realize they need to be done. They're all such nice guys and I enjoy chatting with them each time they check in. We're happy to have found them! They're always looking into something new, so we're excited to see what they might come up with in the future."
"We've got a sizable area of land and Chris and his team has more than exceeded our expectations in caring for it," says JP, yet another satisfied customer. "They even inform us about things we didn't know could be dangerous; what types of chemicals to avoid, what plants could be dangerous for a curious puppy. They're always suggesting improvements. They're not just workers. They're friends. They're family."

Latest posts by Lake Nona Social
(see all)