September 1, 2015 – Floridian Bank is pleased to announce the opening of its newest branch location in Lake Nona, Florida. Located at 9680 Narcoosee Road in the Lake Nona Village shopping center, this is the bank's tenth full-service branch in the state and third in Orange County.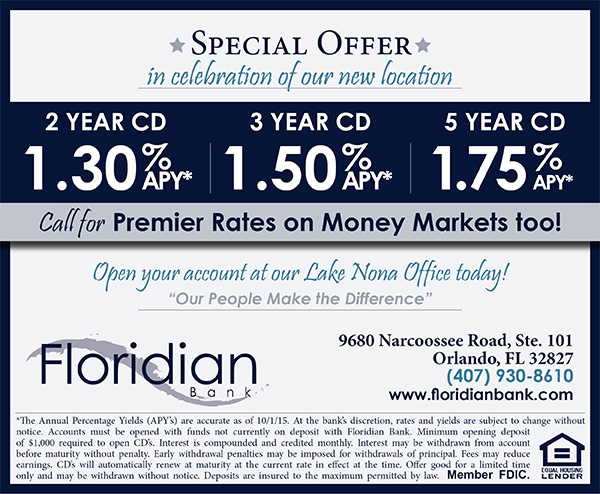 "Expanding our presence in Central Florida was a key part of our growth plan this year," said Keith Bulko, president and chief credit officer. "Lake Nona is an emerging market. It's a vibrant area, and we're excited to be a part of the growth seen in this developing community."
The new office includes an ATM and drive-thru and is open Monday through Friday. Chary Gonzalez was hired in March to serve as the branch operations manager and a new personal banker/teller was also hired to help staff the branch. Vickie Wills, who has been a lender with the bank since 2007, relocated from the bank's Longwood branch to assist with loans.
"We want to see this area continue to grow, and to do that, we are committed to helping local small businesses with their financing needs," said Bulko.
Earlier this summer, Floridian Bank also expanded their electronic footprint. In April, the Floridian Mobile Banking App was launched and the bank now offers mobile check depositing.
Bulko said, "Mobile banking allows us to give our customers the convenience of banking remotely and our offices allow us to continue to provide the personalized service we're known for. Both are equally important."
Locally owned and operated, the bank employs 81 people. In addition to Lake Nona, Floridian Bank has nine other branches throughout Orange, Seminole, Lake, Volusia and Flagler Counties. As of June 30, 2015, Floridian Financial Group, Inc., the holding company for Floridian Bank, had $455.5 million in total assets.
About Floridian Bank
Floridian Bank is a $425+ million, state-chartered, federally-insured, commercial bank headquartered in Daytona Beach, Florida. Established in 2006 as a subsidiary of Floridian Financial Group, Inc., the bank is locally owned and operated. After its merger with Orange Bank of Florida in 2014, Floridian Bank now has 10 full-service banking offices throughout Volusia, Flagler, Orange, Seminole and Lake Counties. Offering flexible financing and depository solutions to businesses, professionals and consumers, "Our People Make the Difference." For more information, visit www.floridianbank.com.

Latest posts by Lake Nona Social
(see all)