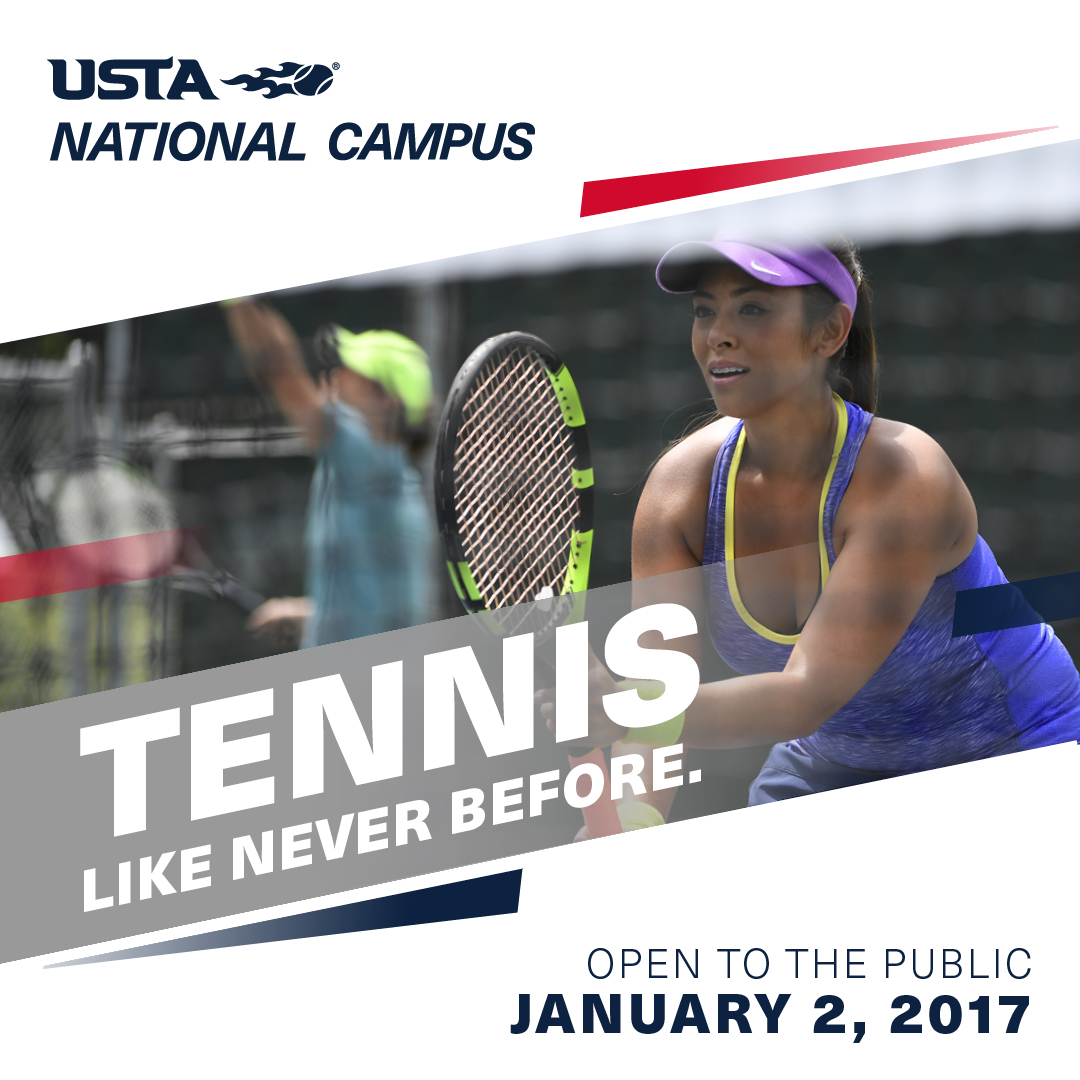 Tennis Like Never Before
The Home of American Tennis officially opens to the public on Jan. 2, 2017, and it's ready to provide a tennis experience like never before.
The USTA broke ground on the USTA National Campus back in April 2015 with one goal in mind: to enhance the sport at every level and create an unparalleled playing, training and educational experience for players, coaches and spectators.
And the 100-court, state-of-the-art facility situated on 64 acres of land in Lake Nona is ready to do just that.
The National Campus features a mix of hard and clay courts – both Har-Tru green and red clay courts, as well as indoor hard courts and 36- and 60-foot courts for family tennis – and houses the USTA's Community Tennis and Player Development divisions. The complex is divided into dedicated areas (listed below) that focus on the complete tennis pathway – from the youngest players to recreational competitors of all ages and ability levels, and from collegians to future pros and professional tour-level players.
"By housing our two divisions devoted to growing the game at all levels, and training the next generation of players and coaches, we can have a greater impact on the sport than we ever had before," said Katrina Adams, USTA Chairman, CEO and President.
USTA National Campus opens Lake Nona from Nona TV on Vimeo.
The dedicated areas and amenities for the USTA National Campus are as follows:
TOURNAMENT AND LEAGUE – This area includes 32 Har-Tru green clay courts and 20 hard courts. The space houses player pavilions and a tournament administration building complete with trainer rooms, an officials area, a stringer area, player lounge, public restrooms and a tournament check-in area.
COLLEGIATE TENNIS – This area features 12 hard courts and will serve as the home of the University of Central Florida men's and women's varsity tennis programs. The courts are equipped with lighting for televised events and have elevated seating for 1,200 people. The area allows two collegiate matches to be played simultaneously. The Campus will host six College Matchday events in 2017 with family-friendly festivities offered before each match. Additionally, it features a two-story pavilion for concessions as well as public restrooms, team locker rooms and areas for trainers and officials.
TEAM USA – This area features 12 hard courts that allow the 17 USTA sections, along with coaches and players from throughout the country, to work collaboratively with USTA Player Development. The Team USA Area also provides training facilities for tennis officials and coaches.
HIGH PERFORMANCE AND PLAYER DEVELOPMENT – This area includes eight hard courts and eight red clay courts. The space includes a lodge that can house 32 boys and girls as well as a strength and conditioning area. This area will be utilized for Team USA events.
INDOOR TENNIS COURTS – There will be six indoor hard courts with a viewing area.
36'/60' NEMOURS FAMILY ZONE – This area includes eight 36-foot and eight 60-foot courts that will enable both youngsters and adults to develop their games.
TECHNOLOGY – The facility will be an epicenter for tennis innovation and education thanks to a partnership with PlaySight Technologies, the company behind Smart Court and the most cutting-edge video and analytics in tennis.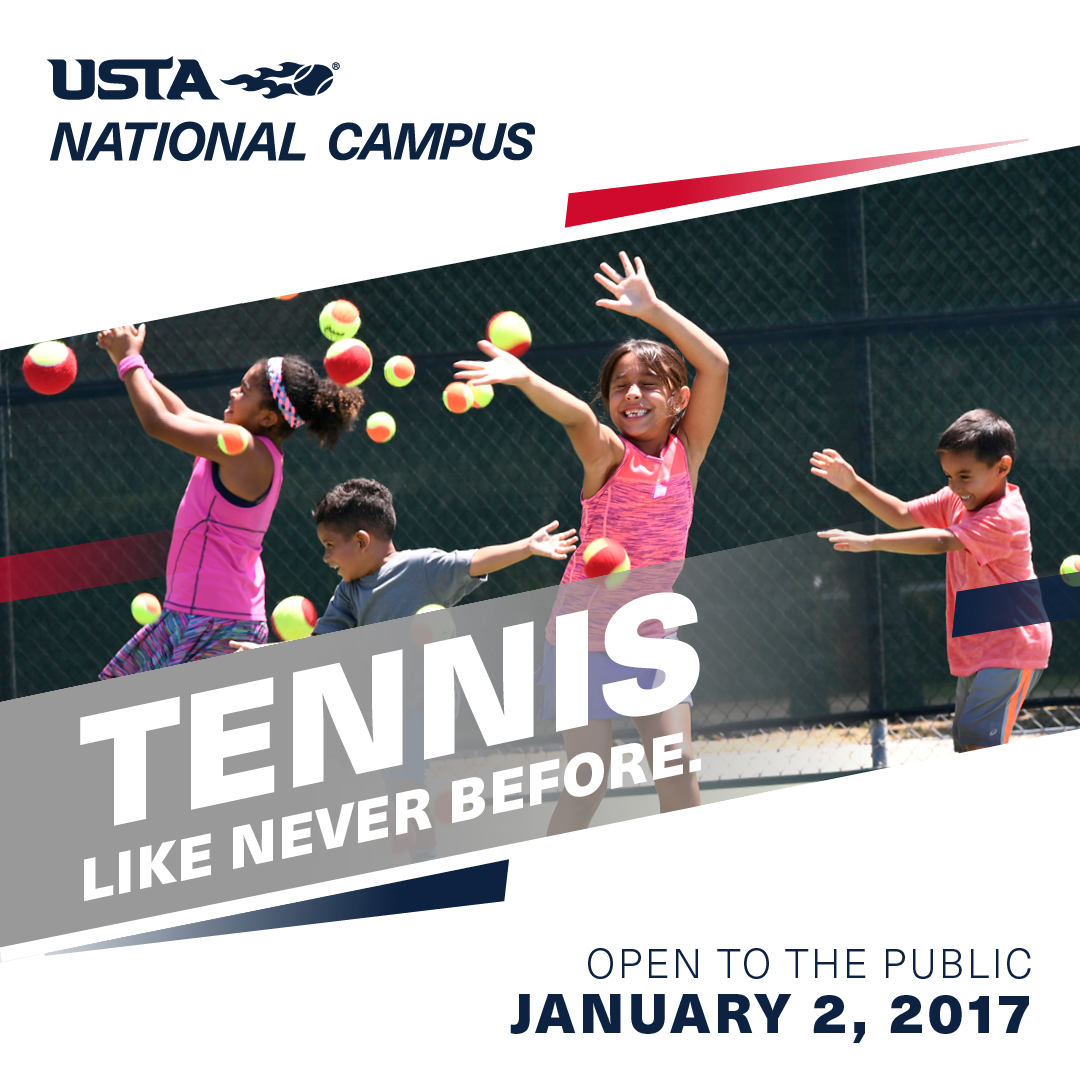 Open House Information:
The USTA National Campus opens in Lake Nona on January 2. From January 3-5, the USTA will host an Open House, offering a sampling of programs at no cost.
Daily sessions: 9:30-11:30am & 5-7pm (7pm Youth Program Q&A)
The campus will provide programming for all ages and abilities. Program rates $15 pp/hr, court rental rates start at $12/hr.
RSVP at (844) USA-TNNS
Learn more USTANationalCampus.com

Latest posts by Lake Nona Social
(see all)