Financial Team Invests for Clients' Future
Felipe Navarrete and Luis Rodriguez have long been competitive. In fact, they met at a friend's birthday party trying to one-up each other at ping pong and cornhole. In their intense—albeit good-natured—jockeying for ascendency that day, a friendship formed that has gone on to pay great dividends for them.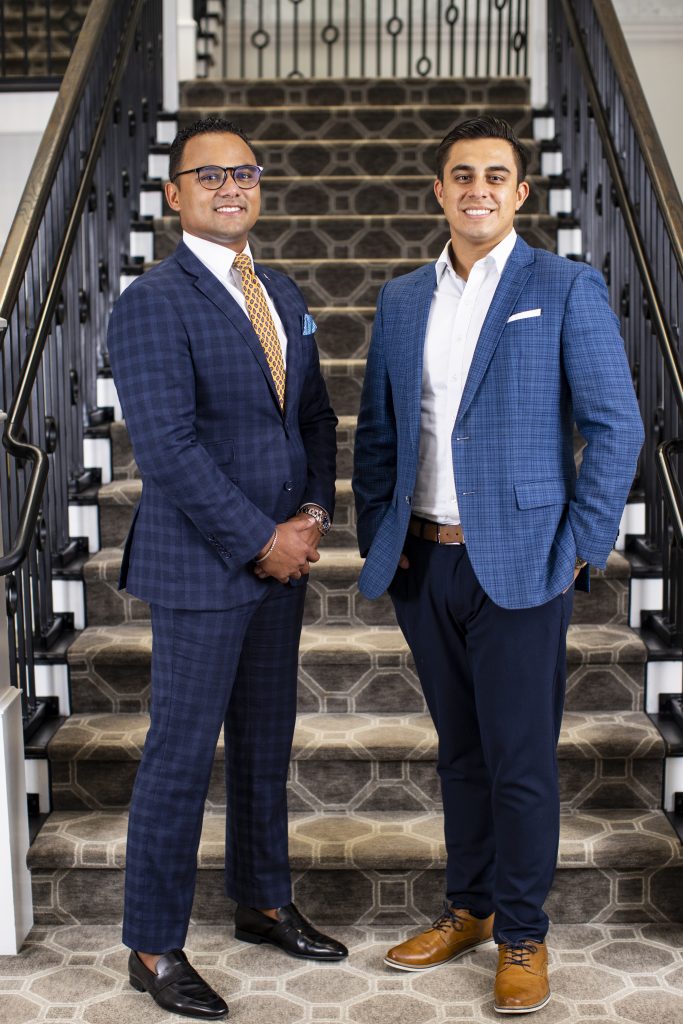 The duo applies that same driving, uncompromising aplomb to developing financial strategies for their clients. The two have served the financial planning and investment needs of a wide variety of clients since 2013 in downtown Orlando. In June of this year, amid the pandemic, they opened a Lake Nona office. It was the perfect fit for two uncompromising professionals searching for their niche.
"Lake Nona is a young, innovative, entrepreneurial community," Navarrete says. "We're both career-minded entrepreneurs. We're young, we're married, we have kids. We know what Lake Nona is all about. Living here makes me feel like I'm part of a movement; like I'm making the world a better place. It's a very innovative little city here and everyone is looking for growth."
"It's a city looking and moving toward the future, and that's what our company is all about: preparing the next generation," Rodriguez adds.
The duo's approach to financial planning and investing is just as innovative and creative as the community they serve.
"All financial planning firms carry similar product offerings," Navarrete says. "Many financial advisors often focus on what products they can sell you. We are concerned with deeper areas of your financial goals, 'such as how we can plan to save for your family over the next 20-30 years or planning for something happening to your business partner and what comes next for the business."
When Navarrete and Rodriguez first meet with a new client, they say they don't even talk about product offerings. They make it a priority to try to understand what their clients' position is financial, considering what their balance sheet looks like and what it should look like in 10 years to reach their goals.
"What sets us apart is who we are," Navarrete says, adding that he and Rodriguez are entrepreneurs themselves and not just financial advisors. "We're younger, and we own our own businesses. We're building a coffee shop down the street, we own a transportation network of trucks and we have apps for sale in the app store. We're consistently investing outside our present scope and looking to grow into new areas of business so we can better relate to our clients and understand how their businesses work."
The two work closely with their client's CPAs to develop effective fiscal strategies. They also work closely with estate planning attorneys for the most effective game plan for their client's financial future. 
"Our typical client is in their 30s and married with kids," Navarrete says. "If something happens to them, their kids will need financial stability. Even with life insurance as part of your plan, you still may need to set up a will and a trust in order for it all to function properly."
Another arm of the business helps professional athletes manage their earnings, a discipline well suited to Luis Rodriguez, who played for the New York Mets from 2004 to 2006. After a shoulder injury forced his retirement, he moved to Central Florida, acquired a degree in sports management, and became an agent. Under the banner of R&S Sports, he represented professional baseball players. He then met Navarrete and came to understand the game plan offered by Northwestern Mutual. At 33, he says, through Navarrete's coaching, his eyes were opened to what was fiscally possible. The two added a business partnership to their already fast friendship, and, today, he counsels professional athletes, helping them make the most of their assets while at the peak of their earning potential.
"My focus is educating professional athletes in the Spanish community the same way Felipe educated me," Rodriguez says. "I have friends and clients who, like me, came from nothing into a lot of money. Because of a lack of planning, I've also seen these same people lose most of their money.  Athletes need someone they can trust, who understands where they are, who can guide them where they need to go when they retire." His clients include professional baseball, soccer, and basketball players for whom he works tirelessly to build a legacy for them and their families., 
"I once heard a speaker ask a crowd, 'how many of you can name at least two or three of your great-great-grandparents?" Navarrete says. "That got me thinking about leaving a legacy and that's what we want to build for our clients." 
Felipe Navarrete and Luis Rodriguez are located in the Regus – Florida, Orlando – Lake Nona Center at 6900 Tavistock Lakes Blvd., Orlando, FL 32827. Phone: (407) 440-6008.

Latest posts by Lake Nona Social
(see all)